From the Secretary of Health
This month's newsletter provides readers with a glimpse of one of the five directorates of Te Marae Ora Ministry of Health Cook Islands (TMO) – the Oral Health Directorate.
The Oral Health Directorate under the leadership of Dr Danny Areai plays a significant role in the health and wellbeing of everyone, especially all Cook Islanders. In the Cook Islands the goal of oral health care services is to improve oral health outcomes of the population by reducing dental caries, periodontal disease and tooth loss numbers through primary care and preventative and sustainable measures.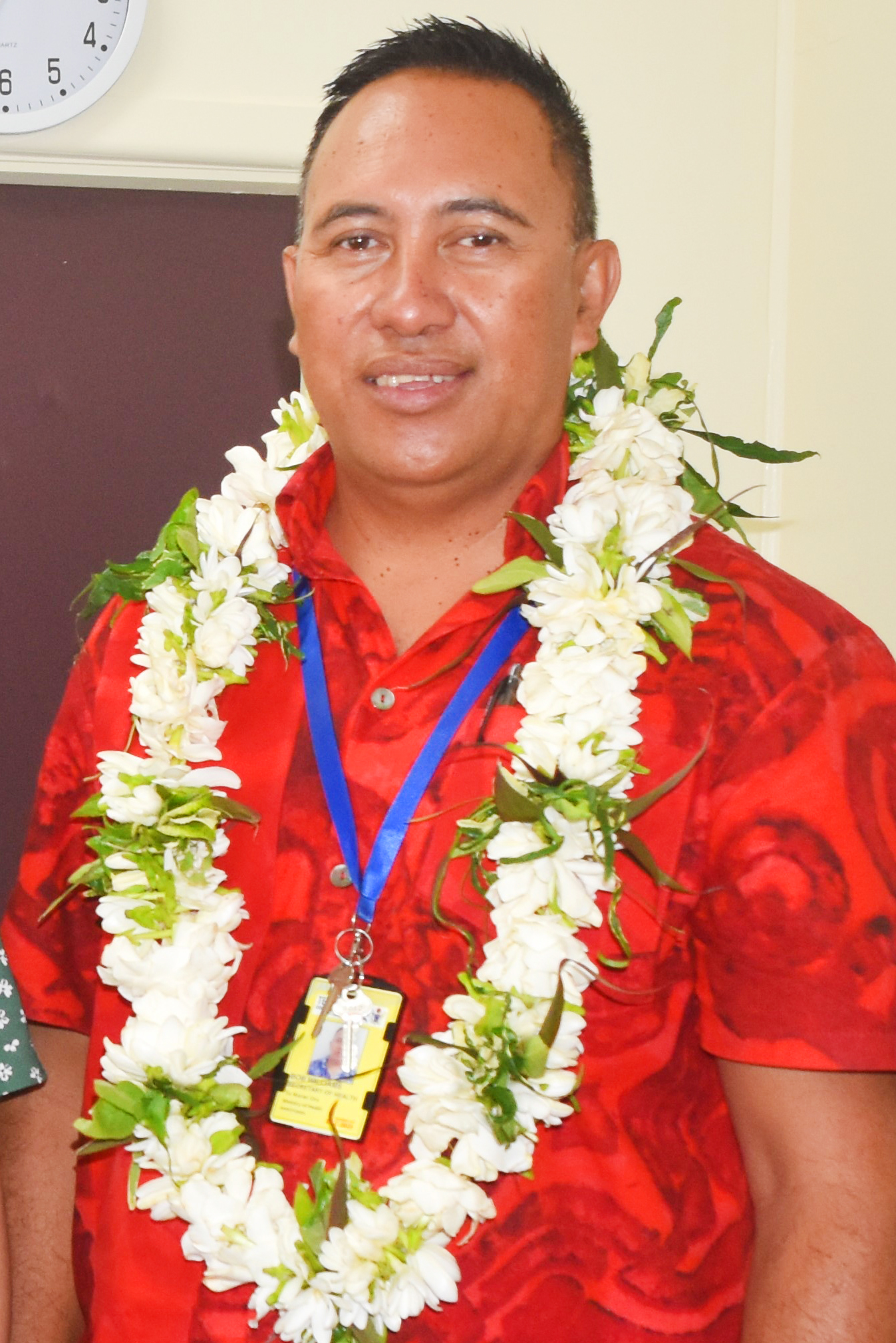 Secretary of Health Bob Williams
From its humble beginnings in the 1920s oral health services in the Cook Islands has expanded and now has a total of 17 oral health facilities across the Cook Islands. There are now 6 registered dentists who are primarily located at the main oral health clinic in Tupapa. Services now include cosmetic dentistry.
As our borders open to non-vaccinated people over the coming weeks I encourage everyone to take the opportunity to get vaccinated in order to protect your health and those of the community you live in.
Te Marae Ora (TMO) Oral Health Directorate is responsible for the delivery of oral health care to the people of the Cook Islands and visitors. It is well known that oral health plays an integral part in the overall health and wellbeing of an individual. As a Directorate we strive to deliver quality oral health care service and ultimately improve the oral outcomes of our patients.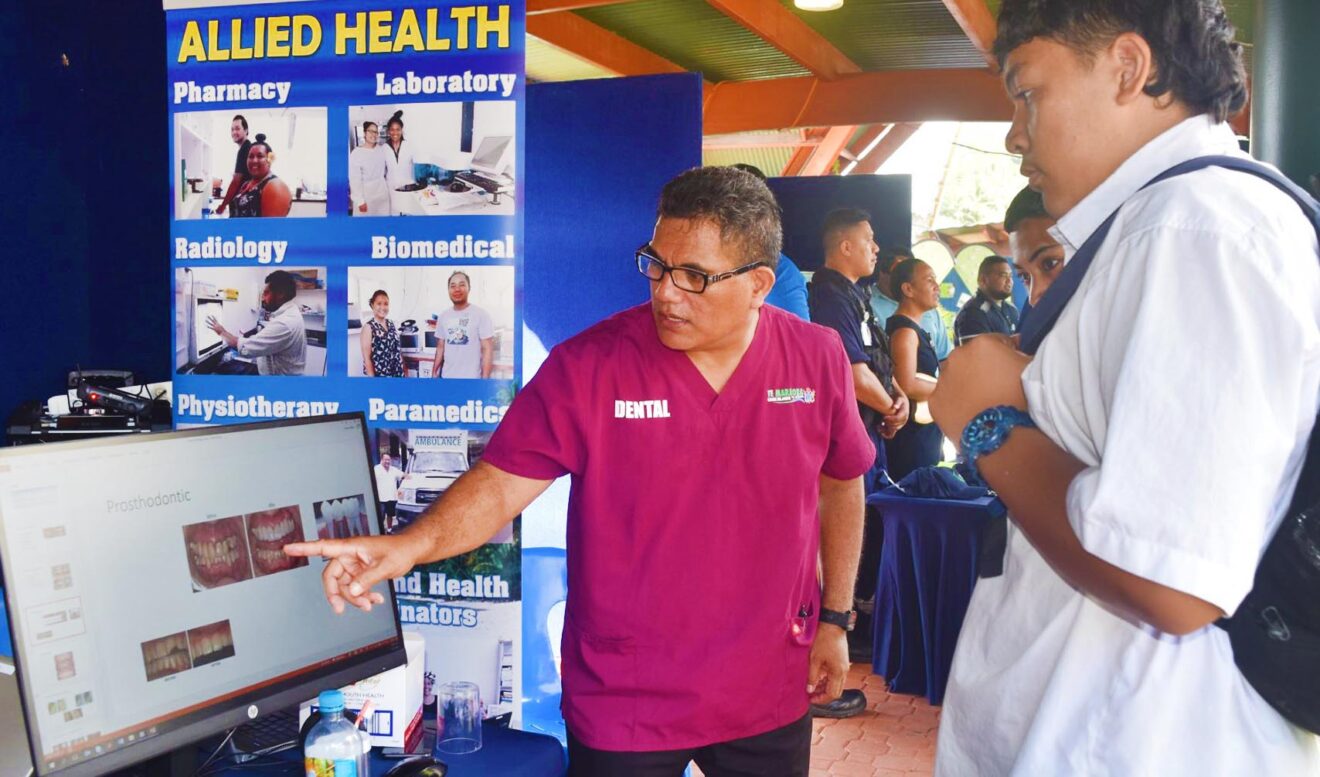 Director of Oral Health Services, Dr Danny Areai educating Tereora Student at the 2021

Careers

Expo.
TMO Oral Health Care Services provides a range of clinical care services such as; restoration of cavitated teeth and minor oral surgery (tooth extractions). This also includes more complex or specialised treatment modalities such as; crown & bridges, endodontic, orthodontic, periodontic and paediatric services as well as limited major oral surgery procedures. The Directorate, in recent years, has been developing its public health arm to strengthen oral health prevention programmes and improve oral health care access to all communities in the Cook Islands. There are currently 17 oral health facilities operating in the Cook Islands. Eight facilities are located on Rarotonga whilst the other nine facilities are located in the Pa Enua. The main oral health clinic is based on Rarotonga, next to Primary Healthcare in Tupapa.
Some schools in Rarotonga have oral health clinics situated on school grounds, allowing easy access to oral health services for students. Easy access to these facilities allows less disruptions from classes. As for schools and areas without fixed oral health clinics, mobile units are available.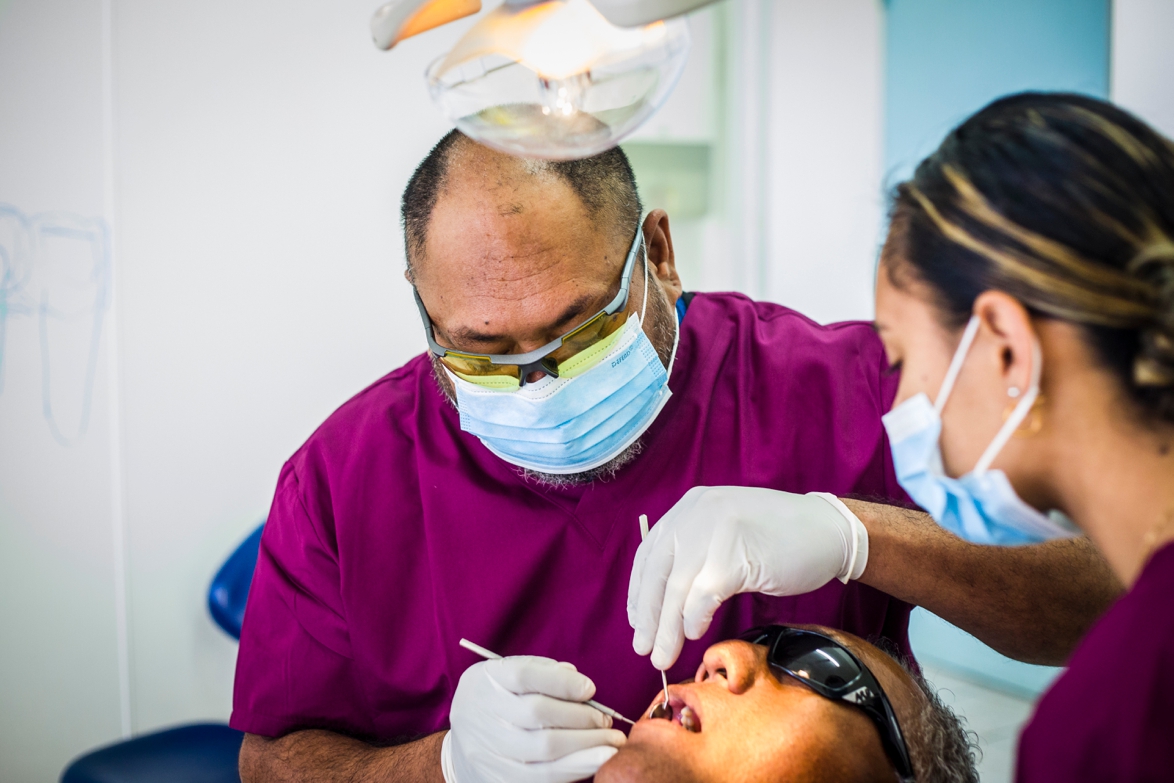 Dental Officer Dr Alfonso Vaevaepare taking care of patient
Available oral health data suggests that dental caries (tooth decay) and periodontal (gum) disease are the most common oral health conditions in the Cook Islands. Early childhood caries is reportedly high in the child population (age 5 – 10 years), whilst tooth decay and periodontal disease is common in the adult population. These conditions are preventable, such as brushing your teeth at least twice daily with fluoridated toothpaste can help keep good oral health.
Within the adult population, it is important to mention the increase in non-communicable diseases (NCDs) like diabetes and cardiovascular disease. NCDs can cause negative effects on one's oral health, therefore it is important to visit your dentist if you have NCDs.
Basic care to healthy teeth and gums:
Brush your teeth and floss regularly. It is always important to do regular maintenance on your teeth and gums. Maintenance removes plaques and prevents tooth decay and gum disease

Maintain a good diet. Anything that you consume can impact the health of your teeth and gums. Have a healthy diet; eat fruits, vegetables, foods high in protein, calcium and whole grains

Reduce sugary food intake

Visit a dentist for regular dental care. Being updated with your oral health is key to staying healthy and understanding your condition. Having regular check-ups allows early detection for any potential dental disease. Yearly visits to the dentist are essential

Stop smoking. Smoking has proven to cause severe gum disease that, in severe cases, can cause your teeth to fall out.
Wear a mouth-guard if playing sports that risk injury to your teeth. Protect your teeth if playing contact sports to prevent any kind of injury.

Children in the Pa Enua proudly showing off their toothbrushes
Wipe baby gums with warm cloth and water every day before their teeth erupts

Limit sugary foods and drinks to your child to prevent tooth decay or gum disease

Avoid bottle feeding babies when falling off to sleep as this can promote nursing bottle caries

Learn the importance of teeth maintenance

Take care of the first set of teeth. This allows your child to have no trouble chewing smiling and speaking clearly
If you wish to make an appointment, please contact the oral health team on Rarotonga 682 29312.
Dr Danny Areai
Director of Oral Health Services
Kia Orana, my name is Danny and I was born and raised in Mangaia. I have been working with Te Marae Ora, Oral Health Services for more than 22 Years. I started as a Dental Assistant after completing my secondary education for approximately 18 months before pursuing studies in dentistry. I graduated with Bachelors in Oral Surgery from the Fiji School of Medicine/University of the South Pacific. I returned home and worked as a Dental Officer, mainly in the Pa Enua in the TMO's "Flying Dental Program." In 2008, I decided to pursue my postgraduate studies at the University of Otago and graduated with Master in Dental Surgery and Postgraduate Diploma degrees in 2010. Upon my return, I than assumed the role of Manager of Oral Health and later Director of Oral Health.
As Director, my main role is to lead the oral health team in the delivery of oral health care, provide strategic oversight to ensure improved oral health outcome for the people of the Cook Islands.
Being the director means that I am often occupied with managerial and clinical responsibilities. My clinical responsibilities remains as something I am most passionate about. Helping our people, through all my profession, has been a privilege but more so an opportunity to contribute to the wellbeing of others.
When I'm not at work I like to do planting, fishing, singing, home chores, and sometimes at community commitments, or just sit back and just relax.
Keep your childs Kuki smile
Cavities (also known as caries or tooth decay) are one of the most common chronic diseases of childhood here in the Cook Islands. Untreated cavities can cause pain and infections that may lead to problems with eating, speaking, playing, and learning. Children who have poor oral health are often absent from school and receive lower grades than other children.
More than half of children aged 6 to 8 have had a cavity in at least one of their baby (primary) teeth.
More than half of adolescents aged 12 to 19 have had a cavity in at least one of their permanent teeth.
Studies shows that children aged 5 to 19 years from low-income families are twice as likely (25%) to have cavities, compared with children from higher-income households (11%).
The good news is that cavities are preventable. Fluoride varnish can prevent about one-third (33%) of cavities in baby teeth when applied at school dental clinics. Children who are brushing twice daily at home with fluoride toothpaste will have fewer cavities than those who do not brush at all.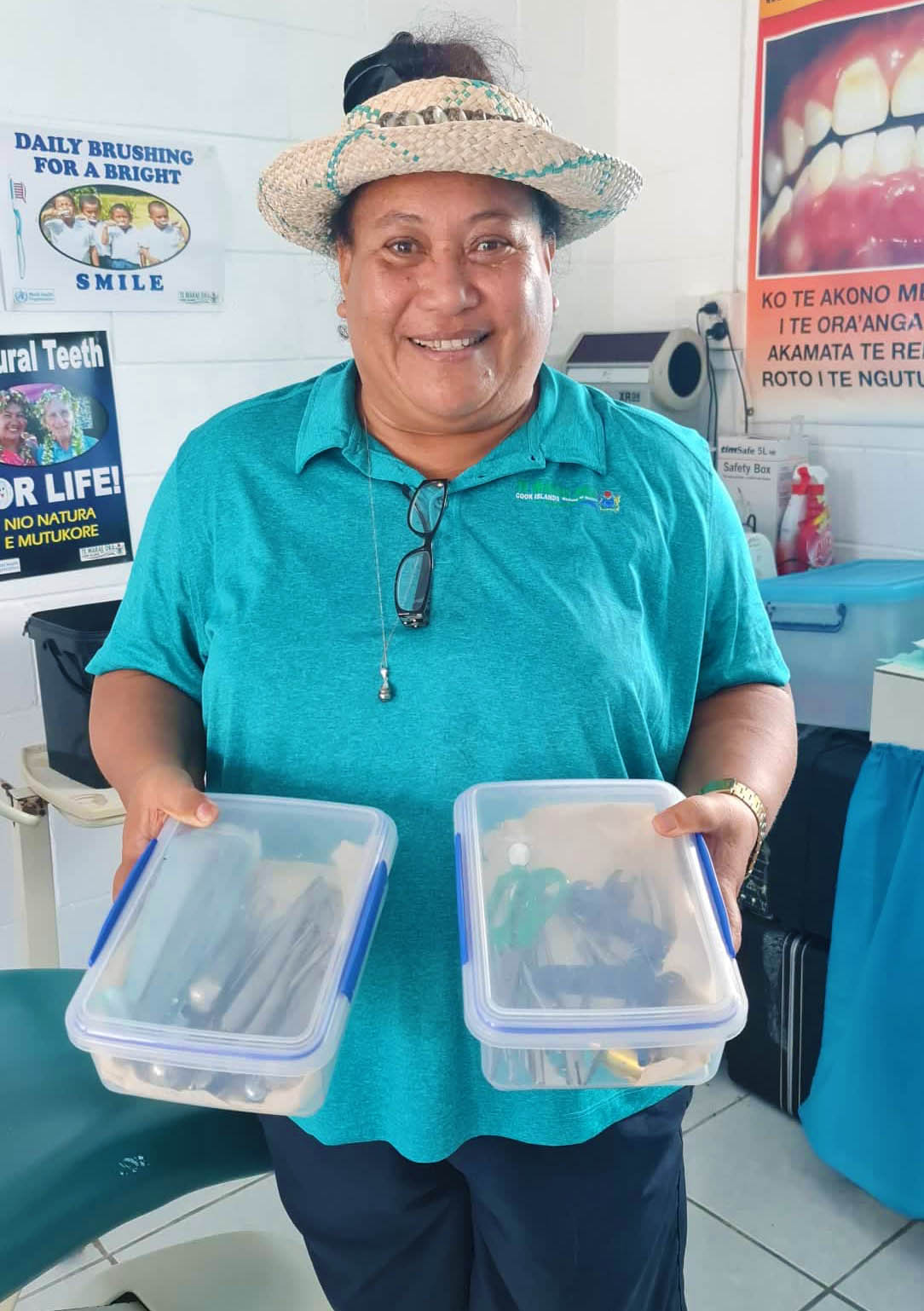 Manihiki Dental Therapist Teokotai Ngaiorae.
Dental sealants can also prevent cavities for many years. Applying dental sealants to the chewing surfaces of the back teeth prevent 80% of cavities.
The health of your mouth mirrors the condition of your body as a whole.
Regular dental visits do more than keep your smile attractive, they can tell your dentist a lot about your overall health. This includes whether or not you may be developing a disease like diabetes, heart disease, kidney disease, and some forms of cancer. Additionally, problems in your mouth can spread and affect the rest of your body.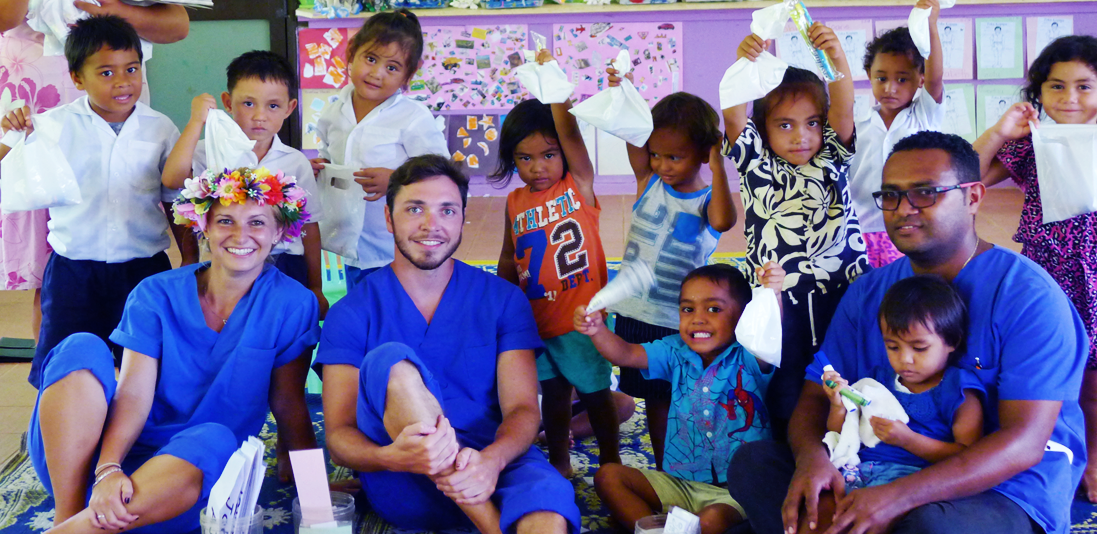 Dental students visiting the Pa Enua
Have you seen your dentist recently?
If not, pick up the phone and schedule an appointment for a cleaning and exam today. By keeping your teeth and gums healthy, you can avoid serious oral health problems and costly treatment in the future.
Phone our Tupapa Dental receptionist on 29312. The earlier you plan for a dental visit the better your chances for developing serious dental diseases.
Dental services have been a crucial part of the health system in the Cook Islands with the first dental clinic being built on the eastern-side of the London Missionary Society Sunday School, formerly known as the Cook Islands Statistic Office, in the early 1900's. This was a consequence of the introduction of free school dental care by the New Zealand government in 1926.
Today, the oral health care services in the Pa Enua is lead by Rarotonga dental therapists. Our dental therapist go on periodic visitations to the Pa Enua. Complex cases that cannot be managed by the therapists are referred to Rarotonga through the TMO Referral Program.
On the 25 February 1959, the headline news in the local news paper read Cook Islander departs for Brisbane. This story was in special recognition of the awarding of a 3-year scholarship in Dentistry to Konito John Pakoti. The high academic achievements (top student 1952 – 1956) of Konito Pakoti whilst schooling at the Fiji School of Medicine from 1952 to 1956, was recognized by his tutor - Ellerton who advocated for the continuation of Pokitoas study in dentistry at the University of Brisbane.
Meanwhile back in the Cook Islands during this period, dental services where being provided by other pioneers such as Dental Officers - Shepherd Mea, Ngaau Apo, Kaa Henry, Tearai Mokoroa, Taia Charlie and Tutere Moetaua; Dental Technicians – Tuakana Kapi and Allan Tuara and Clerk Officer – Robert Tangiia. Tara Utanga-Scott was the first Cook Islander to qualify as a school dental nurse.
The professional development of school dental services In the 1960's
New Zealand Principal Dental Officer Warwick Hanson recruited and commenced training sessions for Cook Islands Dental Hygienists (such as Metua Ioane (Maie), Ngatungane, Rima Ruatoe) and Chairside Assistants Akaiti Short-Daniel, Tepaeru Teina and Pari Paara-Manuel. Warwick Hanson continued to advocate for the continuation of up skilling and training of school dental officers, and in 1966 the Wellington School of Dental Nursing partnered with the Ministry of Health to provide necessary training of staff which was supported by the government.
Unfortunately in 1972 the Wellington School of Dental Nursing closed its operations. Some of the staff trained at this institution include, Maara Hosking, Miriama Aerengamate and Tina Williams amongst others.
After this another institution was identified in Hobart, Tasmania – called the School of Dental Therapy; which trained Nootu Ringi and Matangaro Maxwell, who received sponsorship by the World Health Organization.
Dental Services Practice in the 1950's and 1960's
During this period the Public Works Department would provide a truck to transport school students from Titikaveka, Ngatangiia and Arorangi schools for dental care at the clinic in Taputapuatea, Avarua. The treadle unit operated in the village school clinic where electricity was not available. The dental officer would drill; a dental nurse would ride the treadle similar to riding a bicycle and a third dental operator (nurse) would assist in cleaning, preparing the filling, carrying and emptying slop buckets.
In the 1960's a mobile dental clinic was purchased to provide dental treatment to preschooler's and conduct visits to the Mother and Child Health clinics for dental health education.
In 1969 Robert Burgess handed over the position of Principal Dental Officer (PDO) to John Fraser, who became the last PDO sent by the New Zealand government to the Cook Islands. He completed his term in 1973, after which Dr Kaa Henry became the first Cook Islander to assume the role of Director of Dental Services. In 1975, Oral Health Services relocated to Tupapa where it is still currently situated to this day.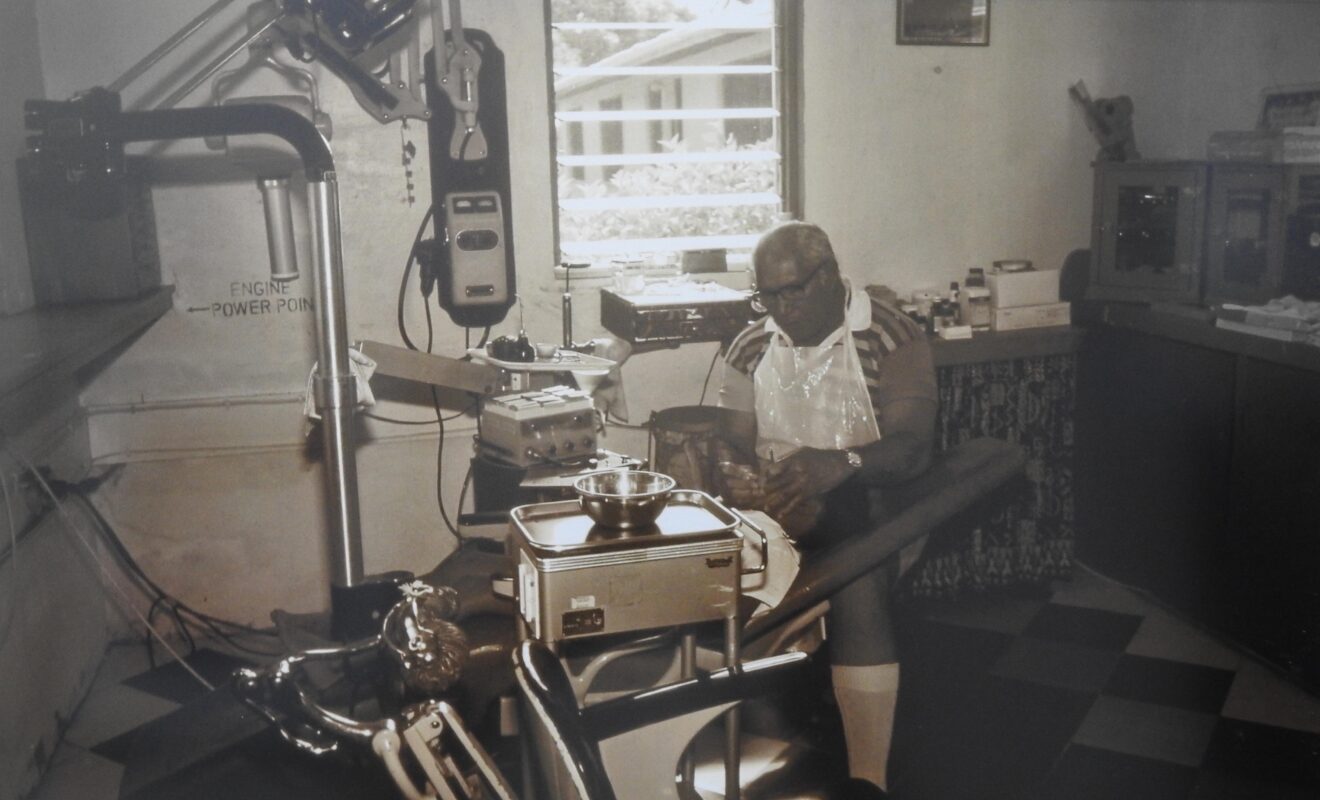 Dental Officer Tangata Vainerere treating patient at the Mangaia Dental Clinic,

photo

by Dr Bernard Mouldenhaur.
Introduction of the International Dentistry Attachment program
In the 1980's a query was received by the Cook Islands Tourism Office for an exchange programme between university students in Germany and the Cook Islands Dental Services. This programme became a reality in 1985 and is ongoing today. Since then other universities from New Zealand and England have become part of this exchange programme.
Upgrading of dental facilities
Dr Marris Smalley from Dental International assisted in the upgrading of dental equipment for the Aitutaki Clinic. Other major upgrading of the Dental Services building, surgery and equipment were provided for by the Cook Islands government and the Ballarat Rotary Club in Australia, amongst others.
Public Health Bill community consultation on its last leg for the Northern Group (Manihiki, Rakahanga, Penrhyn and Pukapuka) on 19 September 2022. Copies of the Public Health Bill was sent to the islands of Palmerston and Nassau. That completes the Cook Islands

Chickenpox. Please call Tupapa Primary Health Care on phone 20066 if your child is showing symptoms of chickenpox

Covid-19 Pfizer child and booster vaccination on 17 September. Vaccination will be at the National Auditorium Domes from 8.00 am - 4.00 pm

Papa Yala Manila, newly graduated assistant health inspector, finally returns home to Pukapuka after 4 years in Rarotonga. Other newly graduated Pa Enua Health Inspectors also return to their home islands, leaving Nassau's inspector to return. Being caught up in the Dengue fever outbreak and COVID-19 pandemic, trainees who were to stay in Rarotonga for 6 months training stayed for 4 years.

Public Health Food Safety announcement for all food sellers to renew their food license
NCD STEP Survey nears completion. Meitaki maata to the participants that took part in the NCD STEPS survey

Child Vaccination Monday to Wednesday at Public Health 8.00 am – 3.00 pm

Blood Cancer Awareness month September 2022

Mental Health Awareness month September 2022

New mental health facility currently undergoing construction at the Rarotonga Hospital next to the Pharmacy storage downhill

COVID-19 Alternative Facility Closed - As of the 1 September 2022 the alternative facility situated at the Kiikii Hotel for positive COVID-19 cases will no longer be available. Persons who test positive for COVID-19 (particularly those who do not normally reside here in the Cook Islands) will need to find accommodation to enable them to be in country for 7 days to allow the virus to take its course.