From the Secretary of Health
Firstly I'd like to say Merry Christmas and a blessed New Year to all. As we enter the festive season I would like to encourage everyone to find time and reflect on your successes, and celebrate our collective achievements with your families, friends and our community. Let's enjoy this Christmas and embark on the New Year with renewed spirit of greater blessings.
These past few months since our last newsletter have been a very exciting and busy period for everyone at Te Marae Ora (TMO). In October TMO and the Honourable Minister of Health Rose Toki Brown had the privilege of hosting the New Zealand Minister of Foreign Affairs, Honourable Nanaia Mahuta at Rarotonga Hospital. The photo below captures a wonderful moment in time with the two ministers.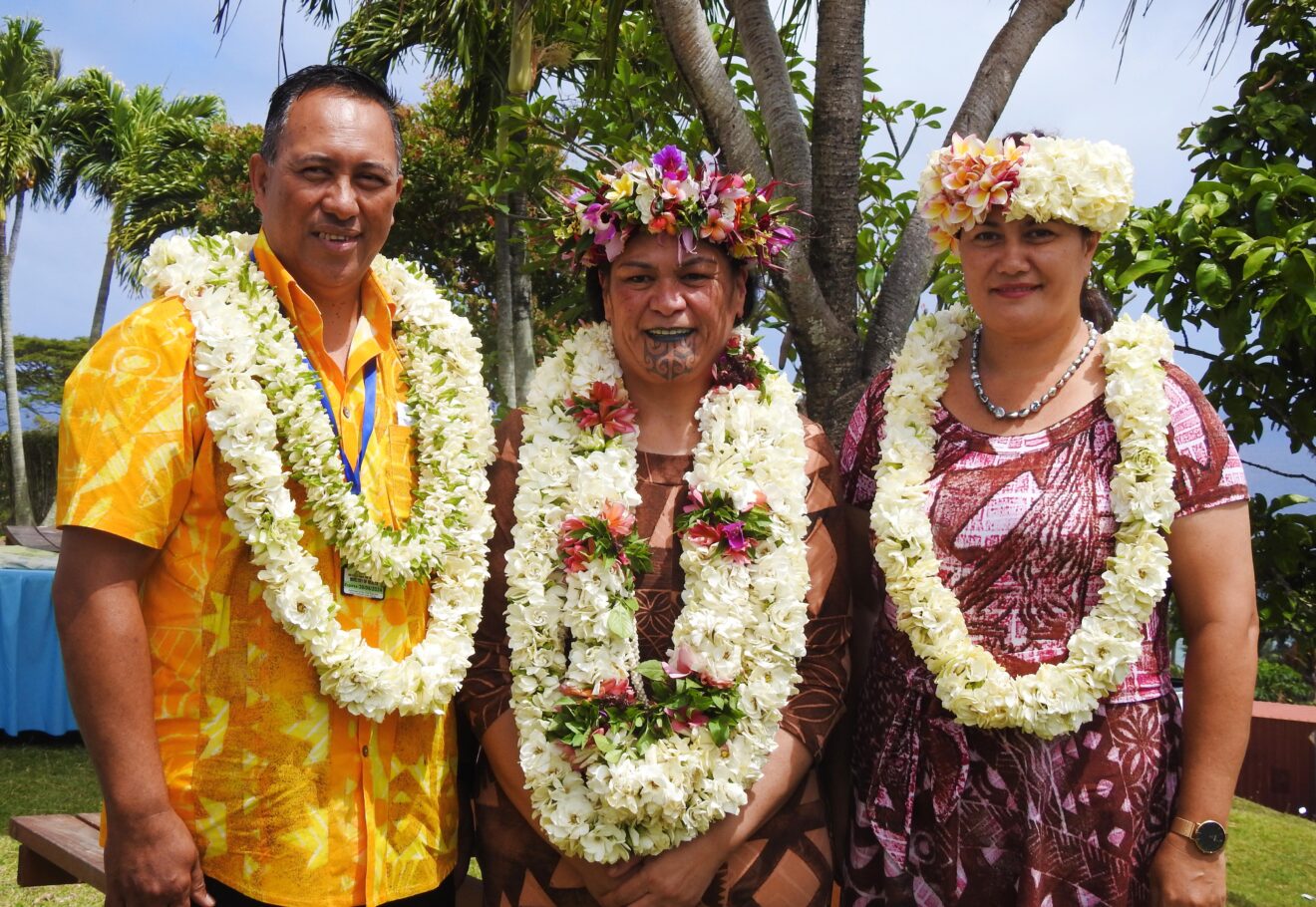 Secretary of Health Bob Williams, Minister of Foreign Affairs NZ Honourable Nanaia Mahuta and Minister of Health Honourable Rose Toki Brown.
Later in the month of October Rarotonga Hospital was the recipient of much needed medical equipment as well as disability aides. The equipment was donated by Landholdings Limited and Ocean Fresh. Te Marae Ora is extremely grateful for the donation and will use the equipment to provide better healthcare for the community.

TMO receiving Donation from Landholdings Ltd and Ocean Fresh at the Rarotonga Hospital.
The Tobacco Control Action Plan stakeholder's consultation meeting and the WHO STEPS survey analysis workshop was held in late October and early November. The Tobacco Control Action Plan stakeholder's consultation meeting provided an opportunity for stakeholders who attended to comment on the final draft of the Cook Islands Tobacco Control Plan 2023-2031. The STEPs survey workshop discussed the preliminary findings of the STEPS data that was collected during the STEPs Survey from June to August. A Fact sheet with results will be available sometime in December 2022 and a final report in the first quarter of 2023.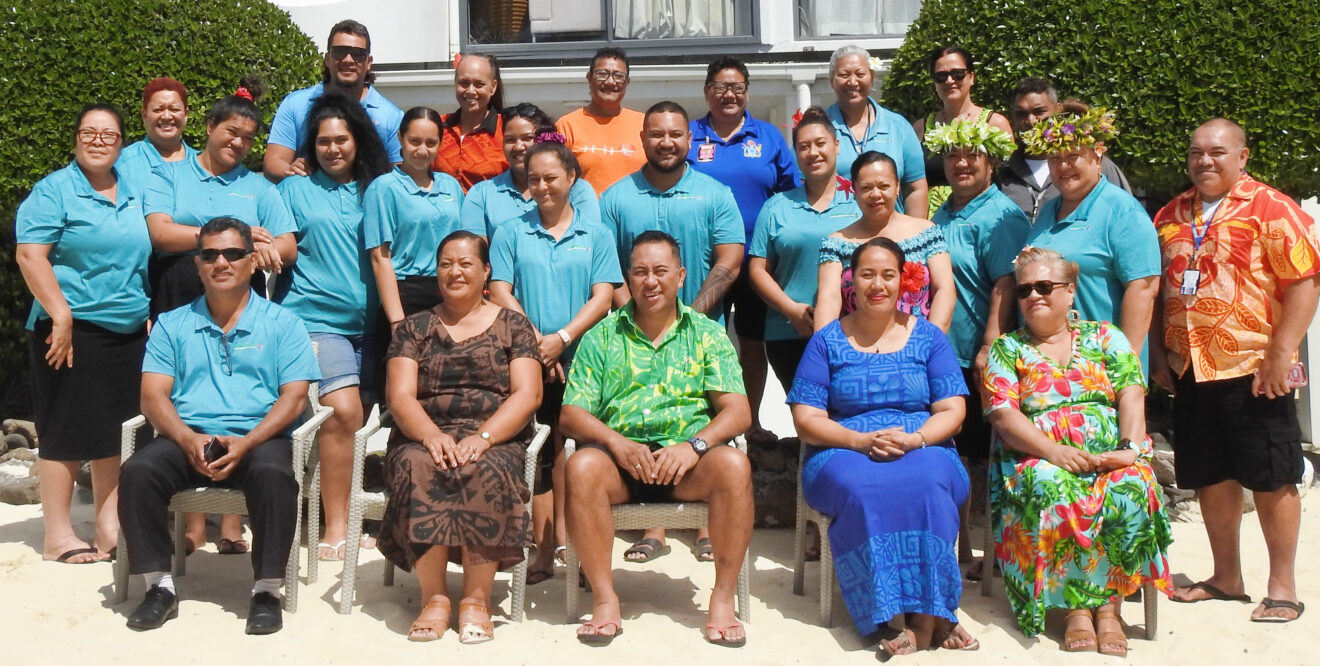 STEPs TMO and WHO team at Muri Beach Club.
As the 2022 year nears an end a number of schools have held their graduation ceremonies. Te Marae Ora is a proud sponsor of trophies in health, sports, and science. Congratulations to all prize winners, we hope to see you all in the future working at TMO.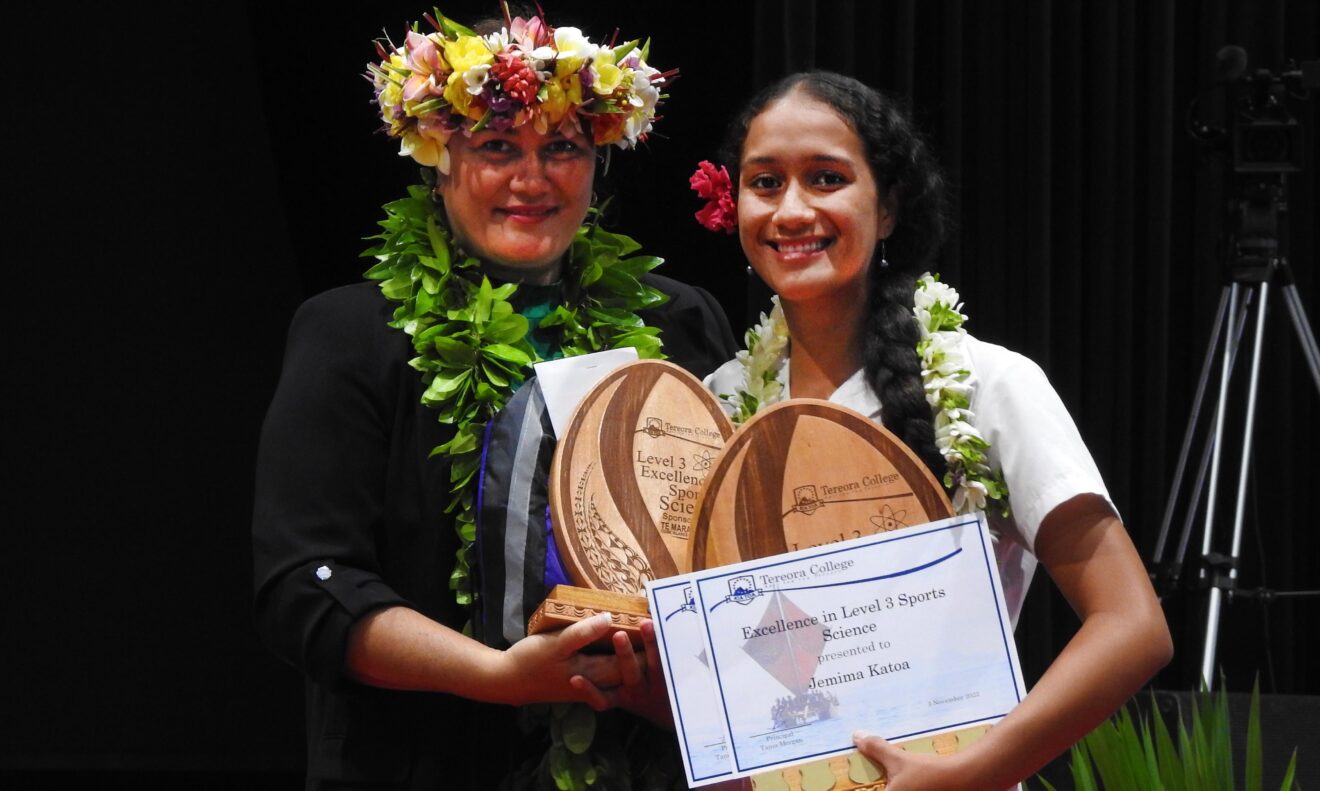 Minister of Health Rose Toki Brown and Tereora college Student Prize Winner Jemima Katoa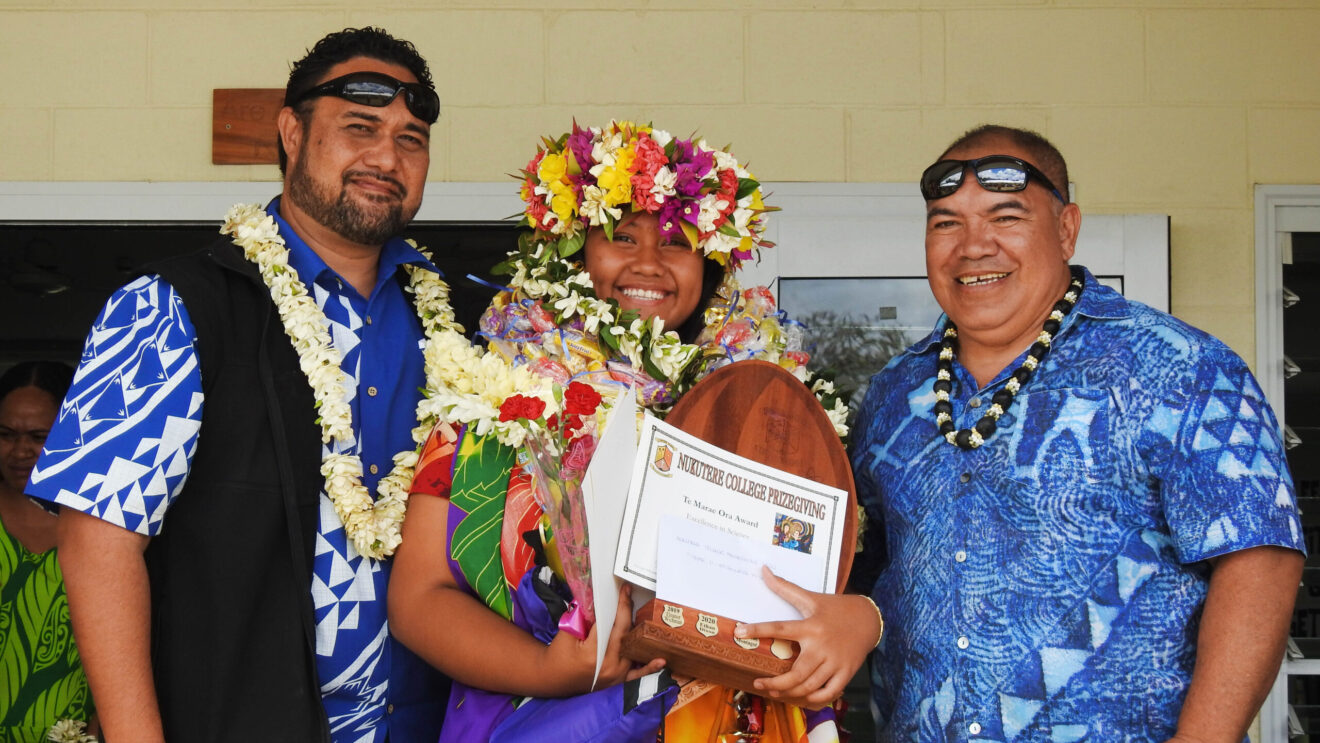 Dr Te Ariki Faireka, Nukutere College Runner up Dux Jana Moemai and Howard Tangimetua
In this last issue for 2022, we highlight the largest directorate - Hospital Health Services (HHS). The Hospital Health Services Directorate under the leadership of Dr Yin Yin May plays a significant role in the health and wellbeing of everyone in the Cook Islanders.
May everyone have a safe and prosperous festive season. Merry Christmas and Happy New Year.
Hospital Health Services (HHS), is responsible for the provision of tertiary healthcare for Cook Islands people. The director is Dr Yin Yin May. There are three main service areas - Clinical Services, Clinical Support and General Support.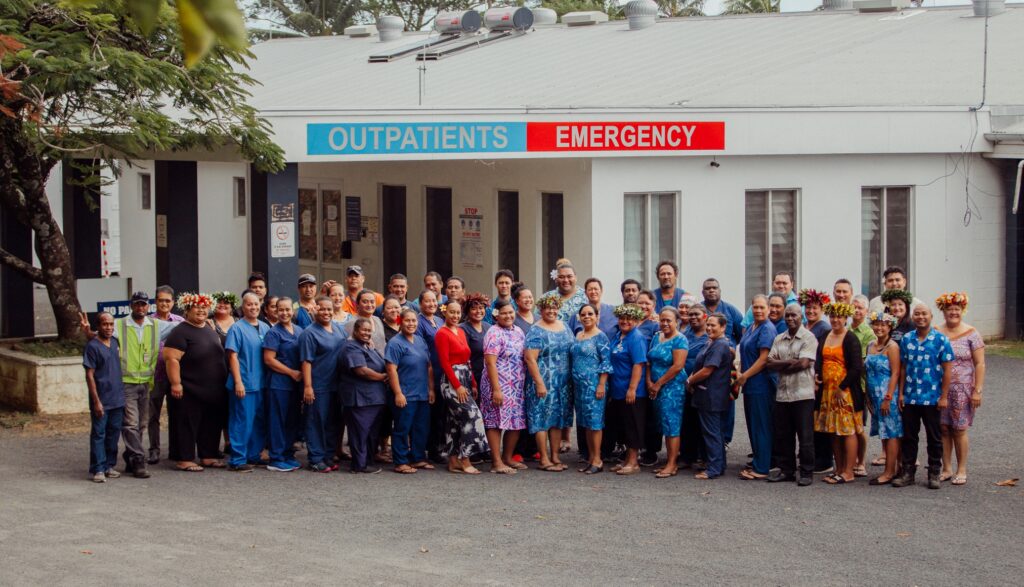 Hospital Health Services team.
Clinical Services covers the following critical areas: Emergency; Surgical; General medical; Obstetrics and Gynaecology; Peadiatrics and neonatal; Anaesthesia; Eyes and ears, nose, throat and Specialist services.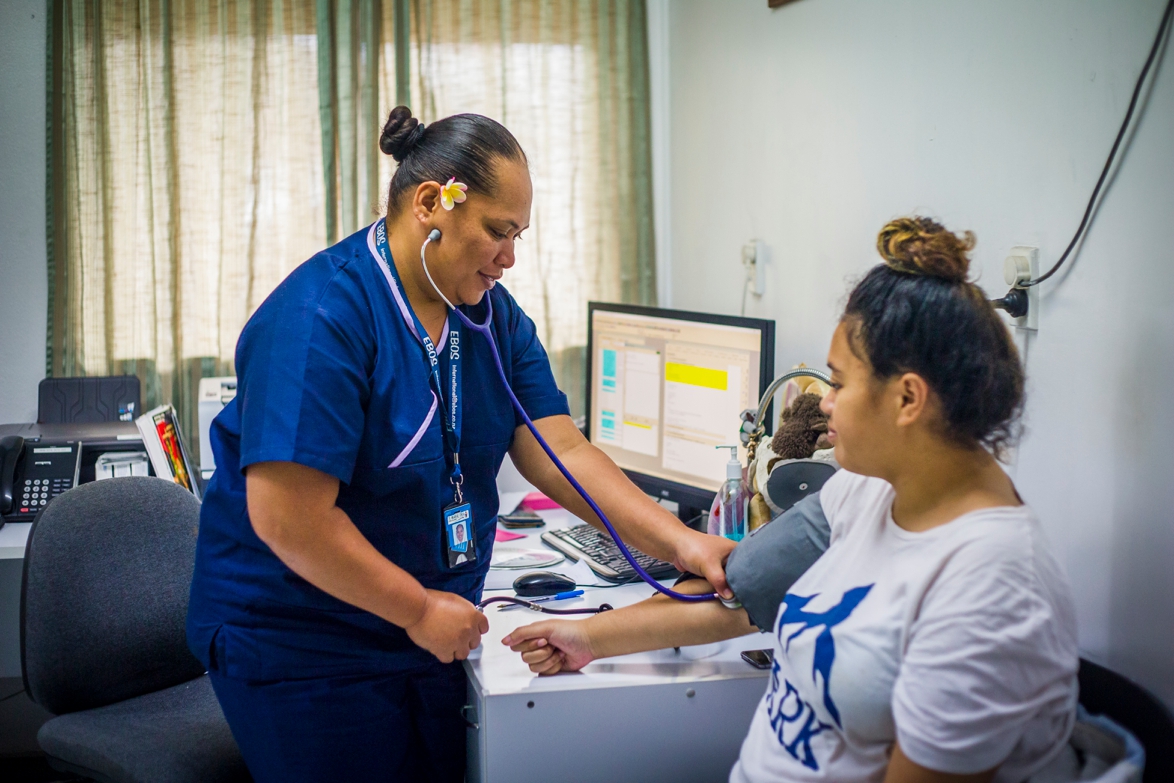 Nurse Maryann Pakitoa seeing patient
Clinical support services are Laboratory; Pharmacy; Radiology; Rehabilitative Services; Biomedical; Patient Referrals; and Health Specialist visits.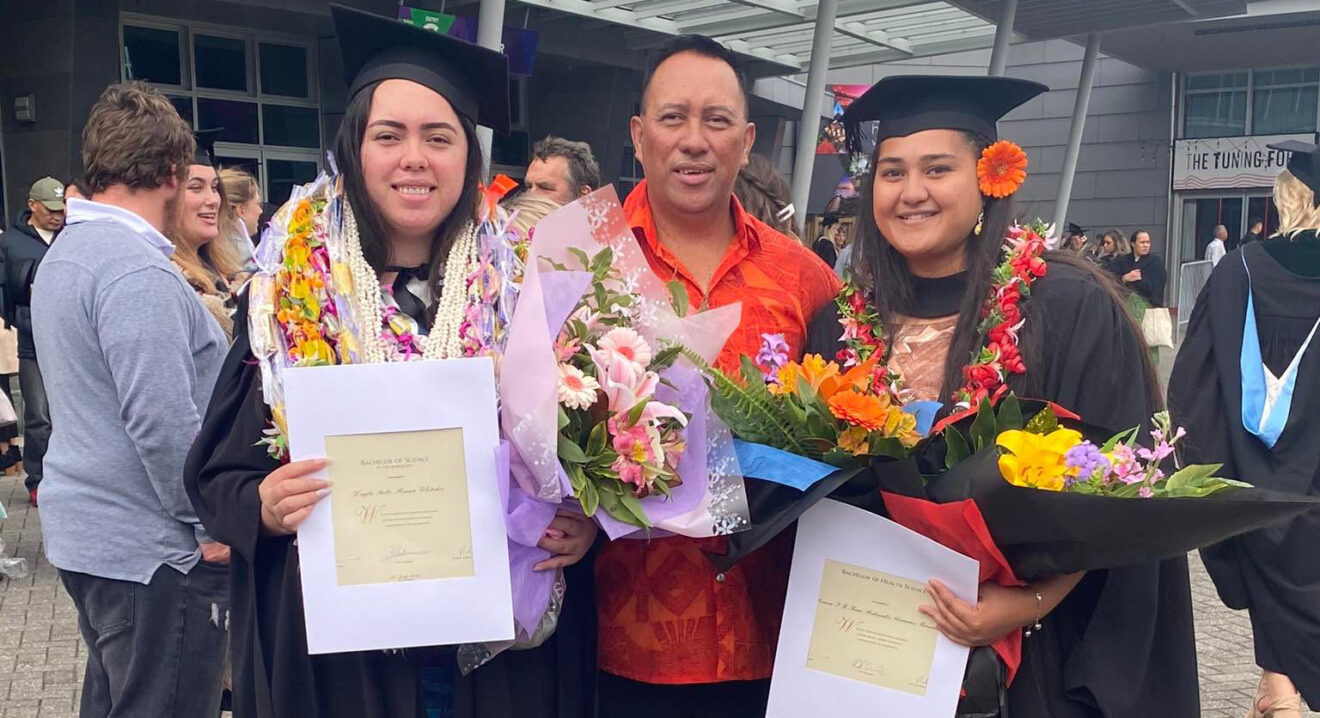 Auckland University of Technology graduate and TMO staff Kayla Whitcher Bachelor of Science, SoH Bob Williams and TMO staff Tutemaeva Poaru Bachelor of Health Science.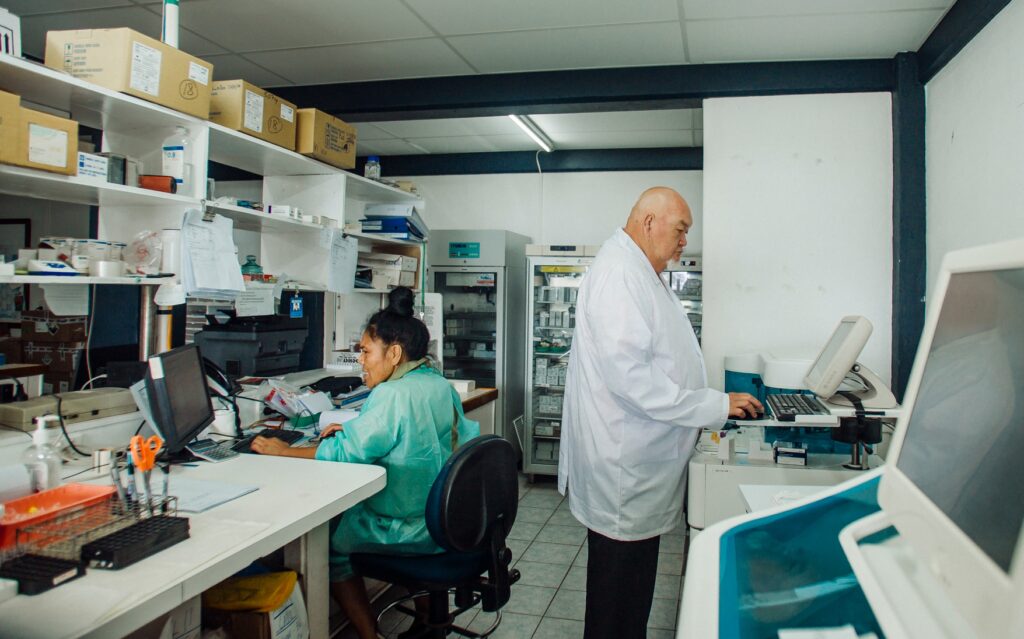 Mata Iroa and Douglas Tou working in the Hospital Laboratory
General support covers the following areas: Reception; Infection Control; Food and Nutrition; and Facilities and Maintenance.
The role that HHS plays in TMO is critical to the health and well-being of the Cook Islands community.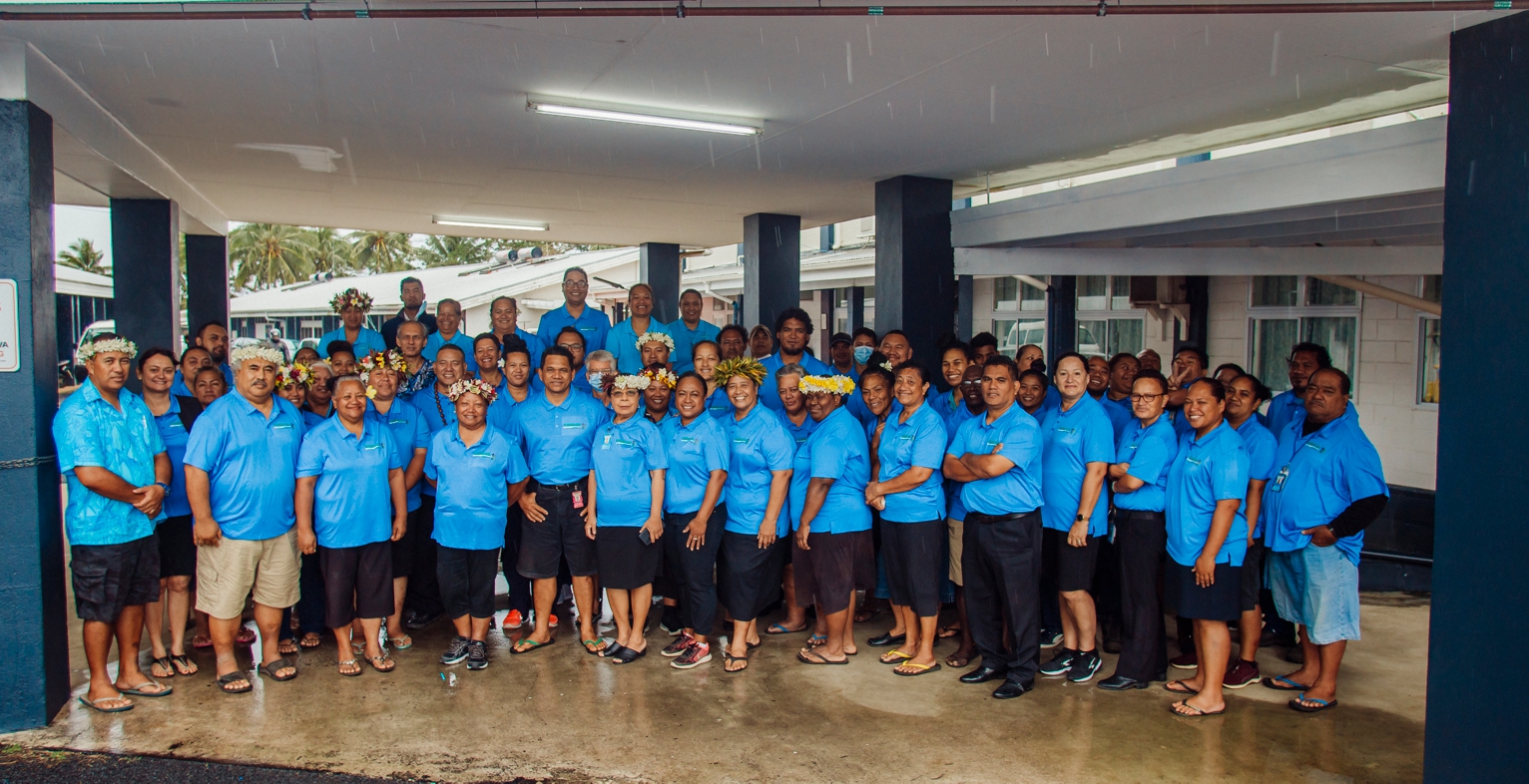 Dr Yin Yin May
Director of Hospital Health Services
Dr Yin Yin May is currently the Director of Rarotonga Hospital Health Services (HHS) and has been in this role since 2017.
Dr May arrived to the Cook Islands in October 1989 with her two young sons to join her husband Dr Aung who had been in the Cook Islands since 1987 and was stationed in Pukapuka at the time. Following a stint in Mangaia the family moved to Aitutaki in 1993 as Dr May was appointed to the position of Medical Officer in Aitutaki and worked also as a general practitioner.
As Dr May narrates: I was responsible for women's health and conducted all deliveries with no maternal mortality or very low infant mortality. I had only one infant mortality from 1993 till 2001 during my tenure.
In April 2001 we went to Rarotonga Hospital and I started to work in the Obstetrics and Gynaecology Department (OBGYN) as a registrar. We received our permanent residency in November 2001 and received New Zealand Citizenship in 2005. After completing my Postgraduate Diploma in Obstetrics and Gynaecology from Fiji school of Medicine (FNU) in December 2006, I was appointed to the position of Specialist Obstetrician and Gynaecologist in January 2007 and voluntarily retired from this position in June 2016. I was then appointed on a new contract to continue in the OBGYN department as a medical officer. I applied for the Chief Medical and Clinical officer (CMO) and I was appointed as the CMO in 2017…my greatest achievement for my first year as the CMO was completing all performance appraisals of all the HHS staff who are under my responsibility on time… I also developed the Cook Islands Internship programme…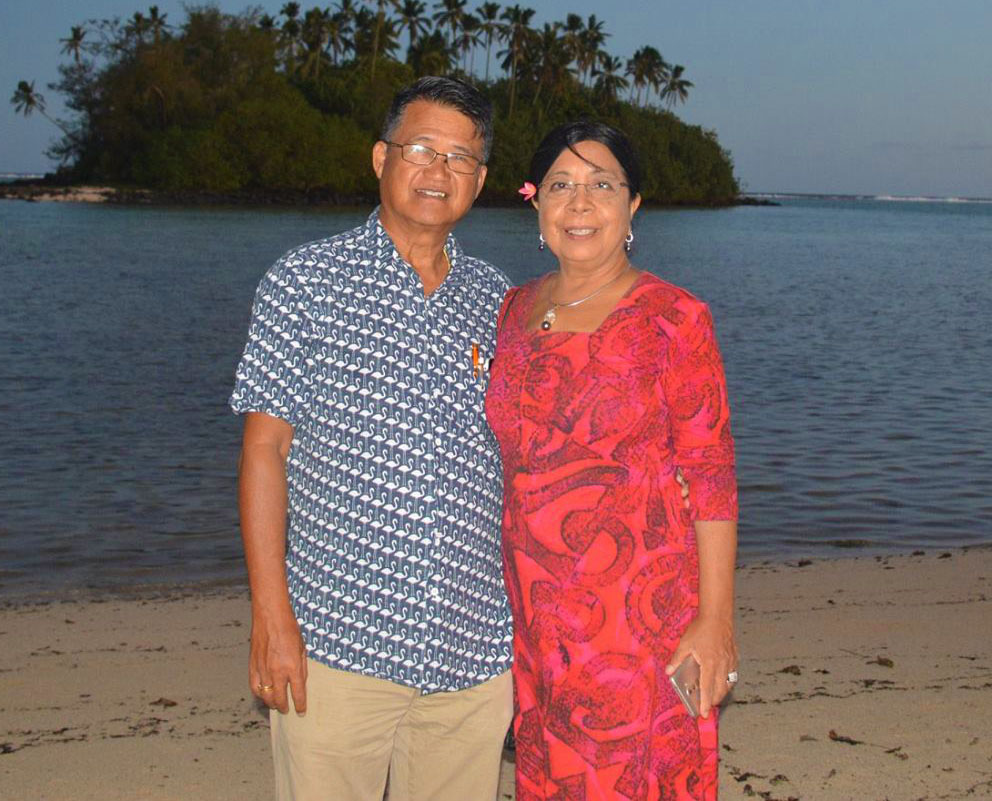 Dr Yin Yin May with husband Dr Zaw Aung
Dr May is an active member of the Pacific Society for Reproductive Health and an Associate member of the Royal Australian and New Zealand College of Obstetricians and Gynaecologists (RANZCOG). Her work in the area of OBGYN for the last 10 years has seen zero maternal mortality; and very low neonatal mortality (MDGs 4 and 5).
Dr May provided leadership to the upgrading of cervical cancer screening in the Cook Islands; the development of the Cook Islands Doctors' Code of Conduct which is currently awaiting final approval and the development of first internship training programme in the
Cook Islands. There are currently three medical doctors under taking the programme.
Dr May alongside the Secretary of Health - Bob Williams successfully rolled out the COVID-19 vaccination programme in the Cook Islands with 97% fully vaccinated of all eligible population in 2021.
Moving away from Te Marae Ora and into her private life, Dr May is originally from Myanmar. One of the fun facts that people do not know about Dr May is that she is a trained Myanmar traditional dancer and that she enjoy dancing, loves to paint, sewing and cooking.
Pharmacy Antibiotics
The pharmacy team conducted a short survey during October about antibiotics in preparation for World Antimicrobial Awareness Week (WAAW) November 18 – 24. Over 430 participants across Rarotonga took part in the survey to find out the public's general knowledge on antibiotics. The information collected from the survey was used to inform communication messages about antimicrobial resistance. The Chief Pharmacist Andrew Orange noted the following findings from the survey:
Survey results suggest that people don't fully understand how antibiotics work. For example, a lot of people answered that antibiotics are used to treat infections caused by bacteria, viruses, and fungi. But antibiotics only treat infections caused by bacteria, like wound infections or pneumonia. Nearly half of participants surveyed thought antibiotics were used to treat the common cold.
Andrew explains - Antibiotics don't work for infections caused by viruses, like the common cold, influenza, or COVID. They won't make you get better any faster. More than half of participants knew that bacteria can become resistant to antibiotics. When that happens, antibiotics stop working and the infection may worsen in spite of treatment. Antibiotic resistance is caused by; using the wrong antibiotic, overusing antibiotics, or not using a big enough antibiotic dose.
Andrew went on to say that: We need to use antibiotics wisely to make sure they keep working. Different antibiotics work on different bacteria and the right antibiotic needs to be taken for the right bacterial infection. Your Doctor or Nurse Practitioner is the best person to decide which antibiotic is best to treat your infection. Leftover antibiotics shouldn't be kept for future use or given to someone else to consume. Antibiotics lose their effectiveness over time, and the next infection that needs treating might be caused by different bacteria, so your leftover antibiotics might not work or could cause bacteria to become resistant. There's also a danger that antibiotics prescribed for you might cause an allergic reaction in someone else, or interact with other medicines they're taking. So it really is best if any leftovers are taken back to the pharmacy. Using antibiotics to treat infections caused by viruses could damage good bacteria that help to defend us against infections. If the good bacteria are damaged, the bad bacteria could get out of control,
causing problems like long-lasting diarrhea.
Andrew explains - The main danger in using antibiotics for viral infections is the threat of antibiotic resistance developing. Antibiotic resistance is caused by using the wrong antibiotic, overusing antibiotics, not using big enough doses of antibiotics, or using antibiotics at the wrong time (like for viral infections). When antibiotic resistance happens, antibiotics stop working on the bacteria they usually work on, and an infection might get worse in spite of treatment. Bacteria can change themselves to become resistant to antibiotics, and they can spread that resistance to other bacteria too. Then those resistant bacteria can spread from person to person, making it very difficult to treat a common infection like a bladder infection.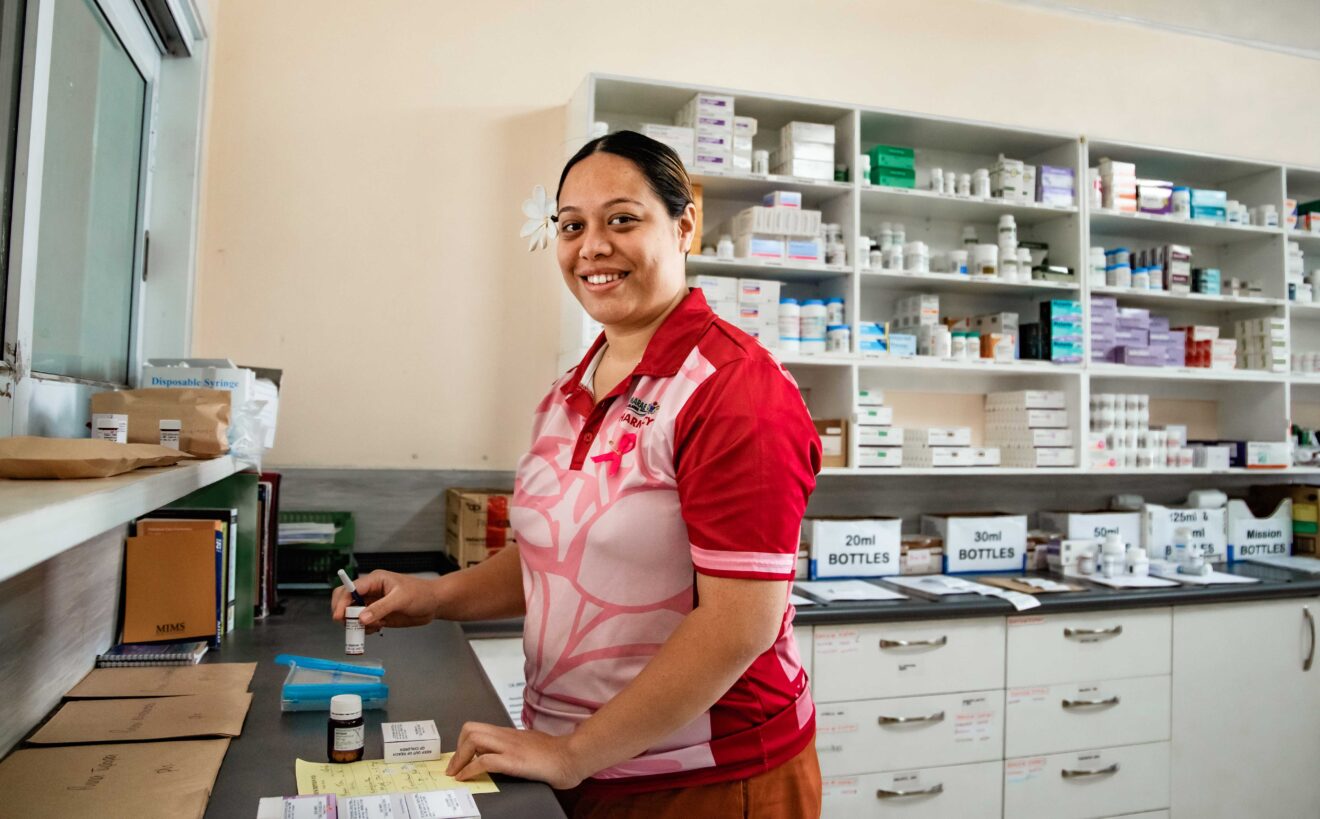 Elizabeth Bryson distributing medication to patients
Dr Richard Everts is a infection specialist and has been visiting the Cook Islands for over 10 years. Dr Everts has always had one goal in the Cook Islands, and that is to keep antibiotics working. For 20 years the Infection specialist, Dr Everts, has handled antibiotics in New Zealand, Australia and across the Pacific. Antibiotics not only kills bacteria but also saves lives.
During Dr Everts visits to the Cook Islands he discovers exactly the bacteria responsible for infections in the Cook Islands. Microbiologist Geoff Wuatai and Peia Ben grow bacteria from around the Cook Islands and measure antibiotics to counter attack it. Dr Everts analyses the results of the microbiologists decides the appropriate antibiotic to use. You can't just take antibiotic guidelines from New Zealand or Australia and use them in the Cook Islands. The antibiotics that are best for a skin infection in the Cook Islands are somewhat different from those in other countries…
While in the Cook Islands Dr Everts noted down every infection he encountered and the correct antibiotics to use for it. These notes later the developed into a guide that would be used by nurses, doctors and pharmacists of the Cook Islands. In 2015 Dr Everts officially developed the guide on how to use antibiotics correctly. The handbook was used by Dr Everts to teach TMO staff. To this day the guide book is still being updated.
Antibiotics are a precious resource, and we must all use them wisely...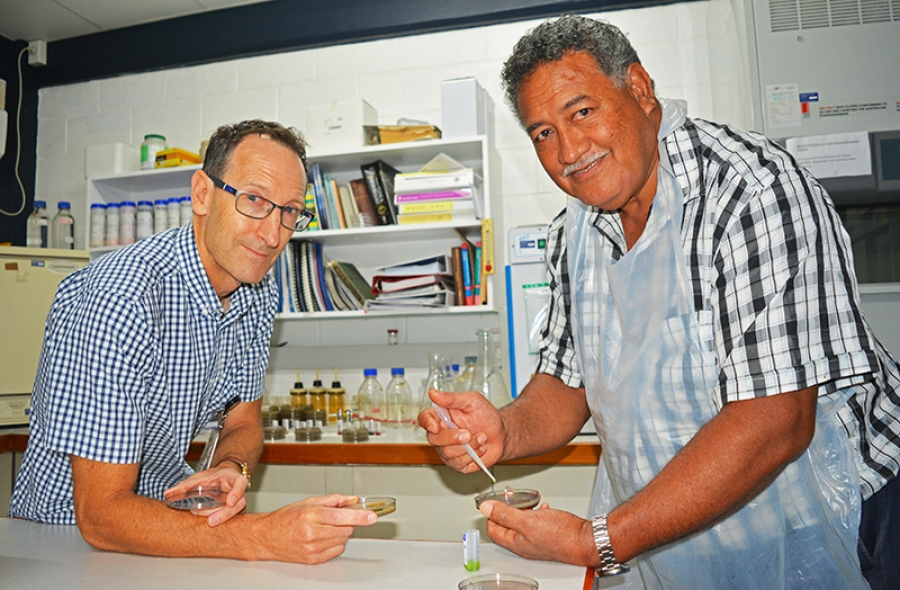 Dr Richard Everts and microbiologist Geoff Wuatai. Image courtesy to Cook Islands News.
During his stay in the Cook Islands, Dr Everts along side microbiologist Geoff Wuatai were able to study and research plants that have antibiotic properties. The plants include flowers, nuts and leaves such as Piripiri kerekekre - the plant with strongest antibiotic properties. Dr Everts and Wuatai discovered that its leaves and flower kill a skin infection bacteria -
Staphylococcus aureus. It's fascinating that for hundreds of years Cook Islanders have used natural products on skin sores and only now we're discovering how some of these might work. I really enjoy visiting the Cook Islands and doing this work. It's very rewarding and I enjoy working with TMO staff…
The 2022 Cook Islands Games ended with a colourful night. Team colours from the 10 Islands that participated in the games paraded around the track with smiles of joy and pride bringing unity to what is to be another successful Cook Islands Games. The islands of: Aitutaki, Atiu, Mangaia, Manihiki, Mauke, Mitiaro, Palmerston, Pukapuka/Nassau, Rakahanga and Rarotonga participated in the 2022 Games.
Entertainment included the 100 dancers of the Aka'uka cultural exercise dance group that embraces women of all shapes and sizes.
At the end of a competition there will be only one winner and that winner was Mangaia Enua who took out the Overall trophy, the Juniors Section trophy, and drew the Masters section with Mitiaro.
Over 800 medals were awarded to the successful young and older athletes from the 3200 who registered and competed across 25 sports codes. National records were broken in a multitude of different sports codes showing the high standards of sports and the dedication from the athletes.
The first Games took place in 2020 in the middle of the COVID pandemic. It brought our country together at a time we needed it most.
In this edition we specifically acknowledge all the employees of Te Marae Ora who took part in the Cook Islands Games and represented their home Islands, as well as the staff on standby ready to aid injured athletes. Not only did you represent your Islands, but you also represented Te Marae Ora. We would like to congratulate all our staff members that participated.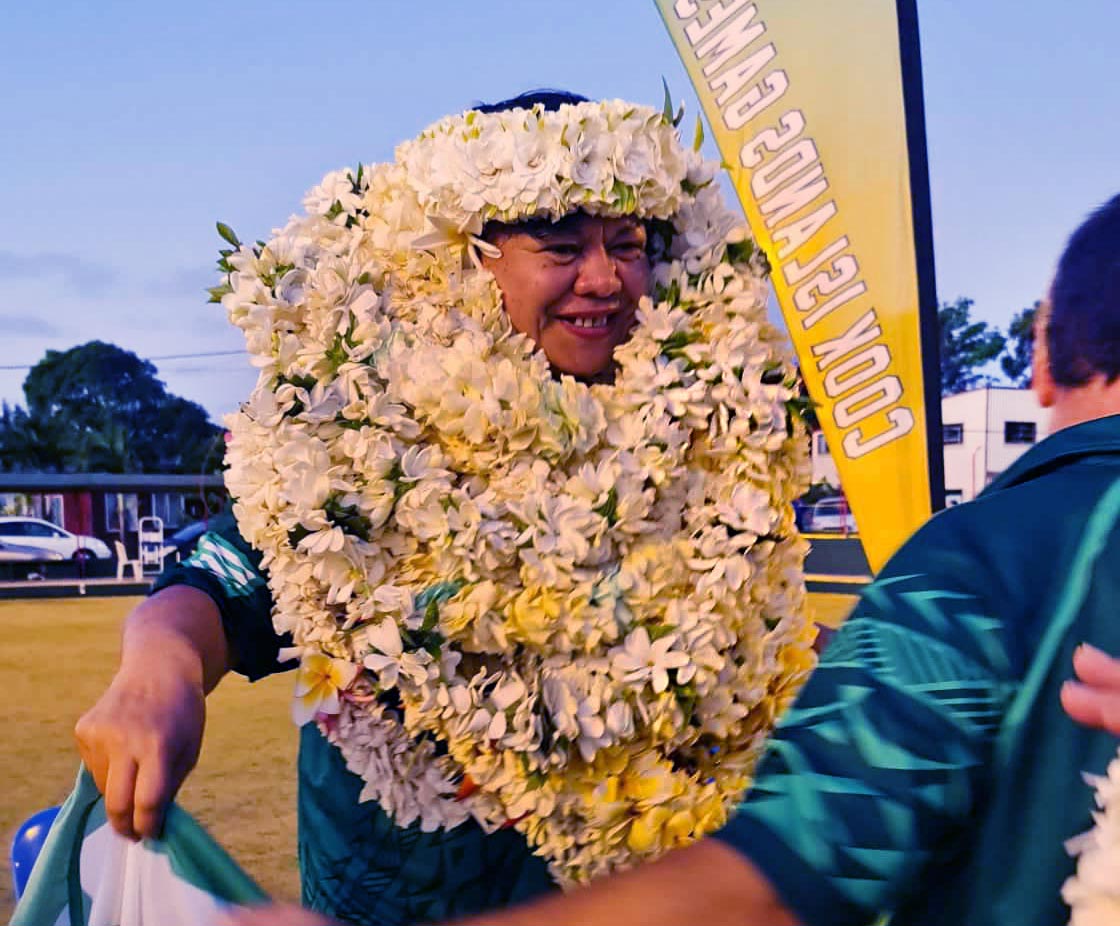 Rufina Tutai gold medal in women's singles bowling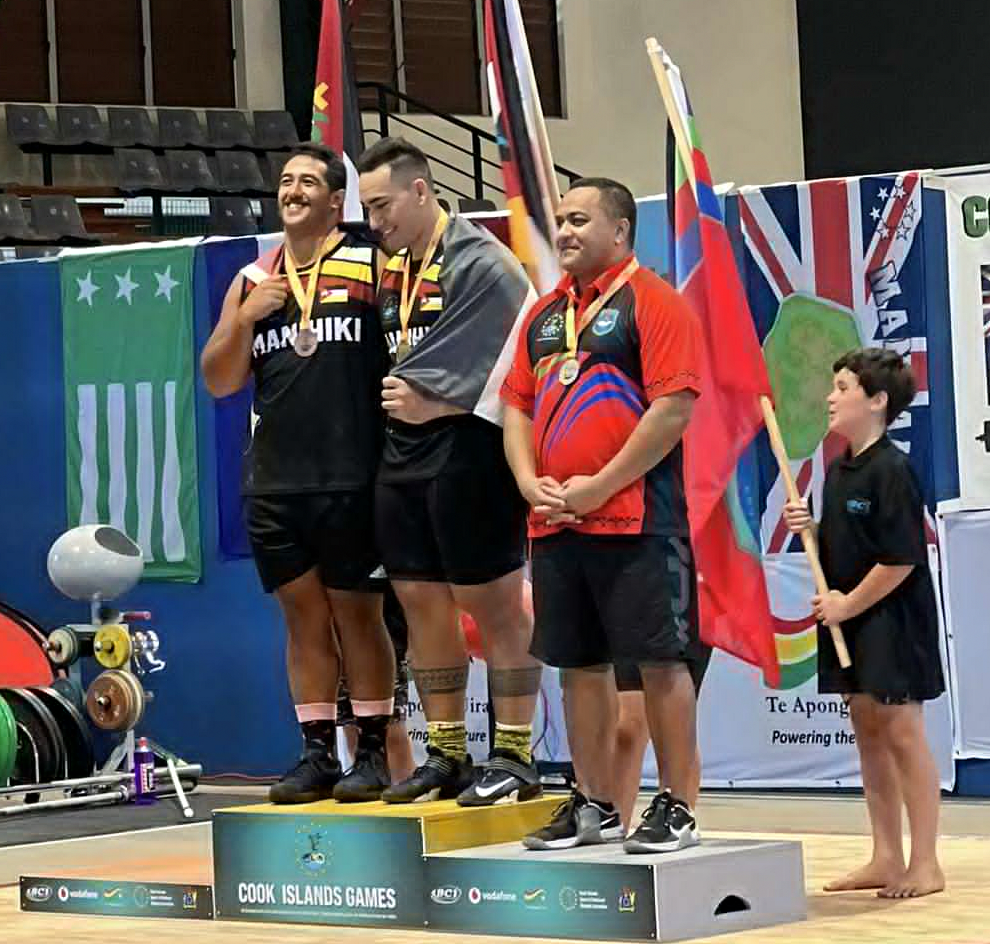 Dr Teariki Puni silver medal in men's weightlifting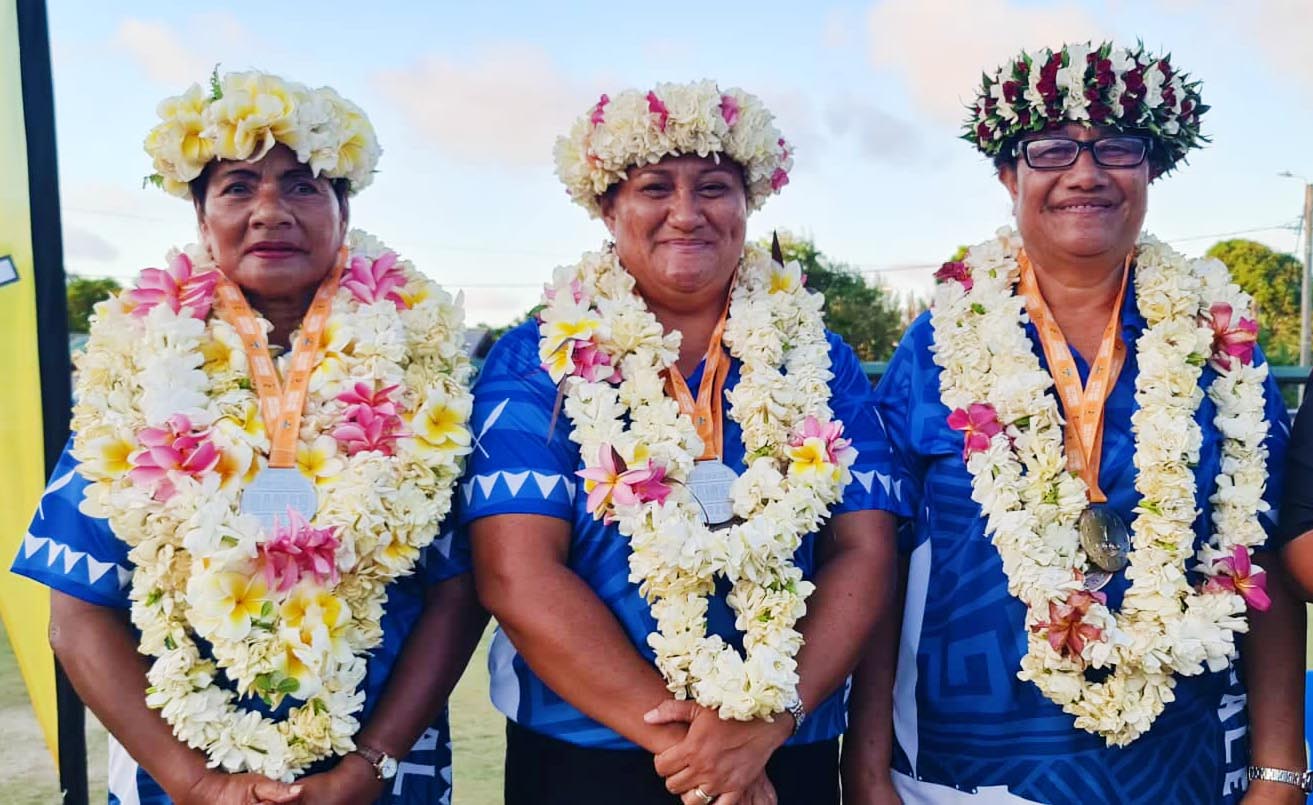 Mere Tiro bronze and silver medal in women's triples and fours bowling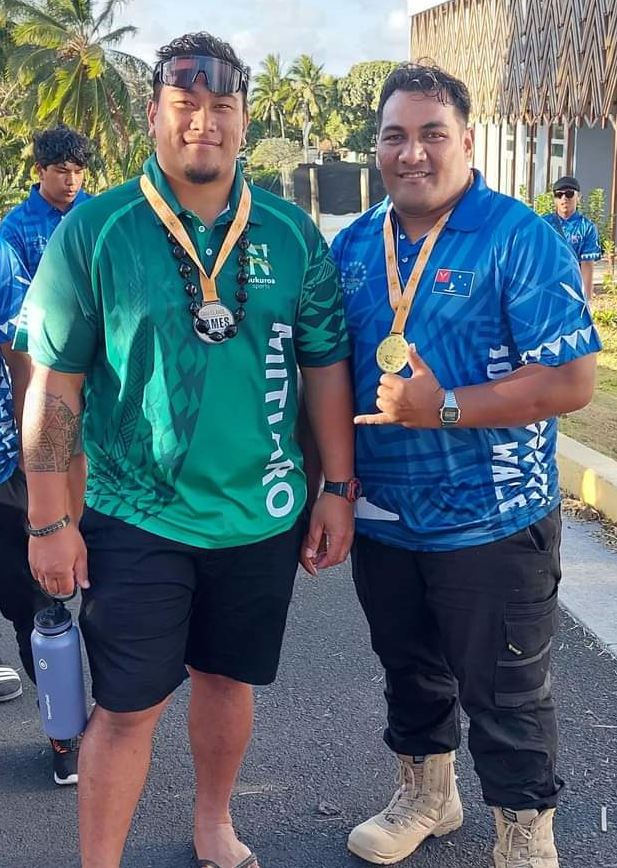 Nelson Ngaiorae Silver in rugby league and Mexico Jack Gold in cricket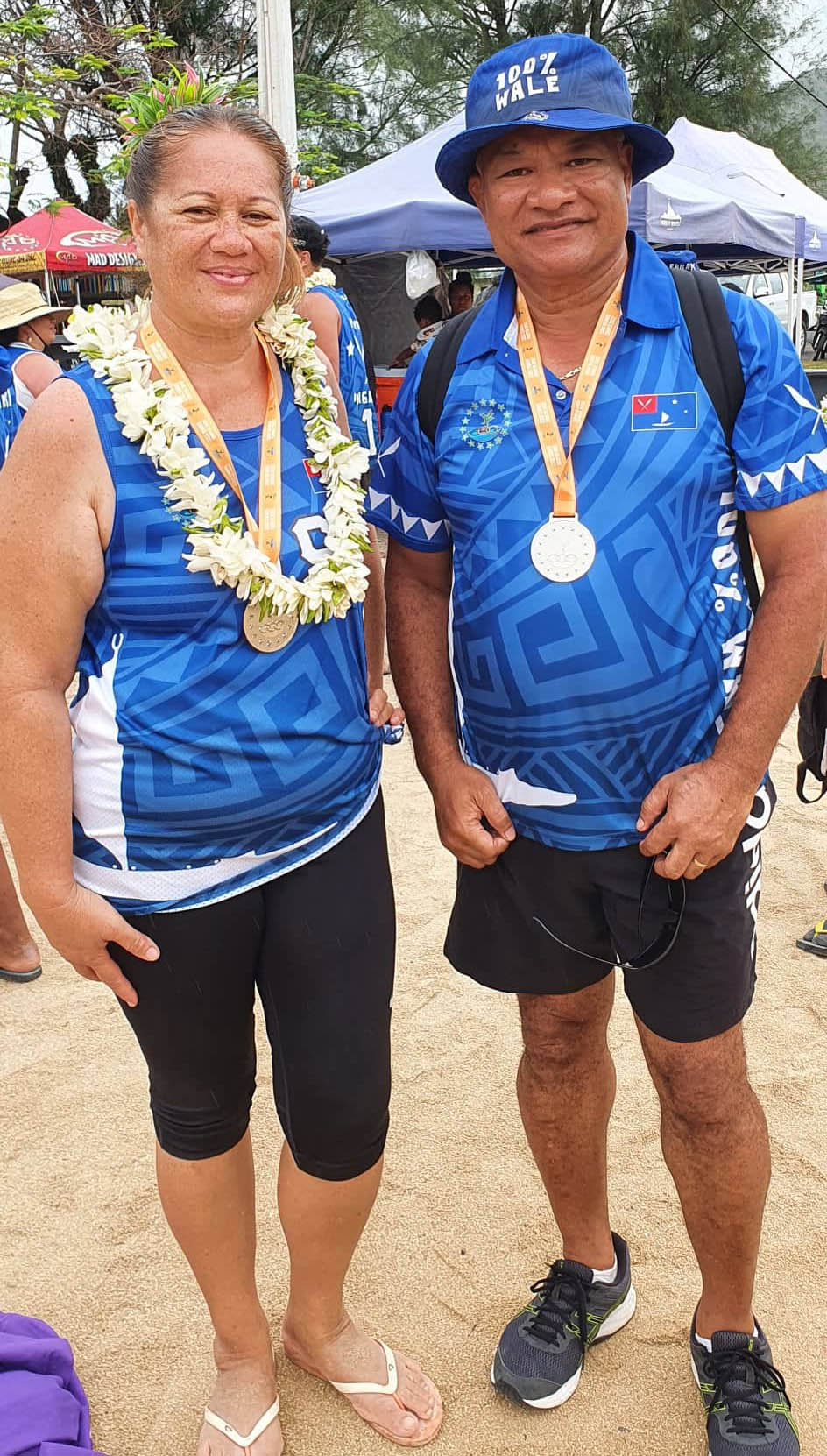 Parau Nio silver medal in Volleyball Marsters and Dr Kirianu Nio silver medal in Tennis Marsters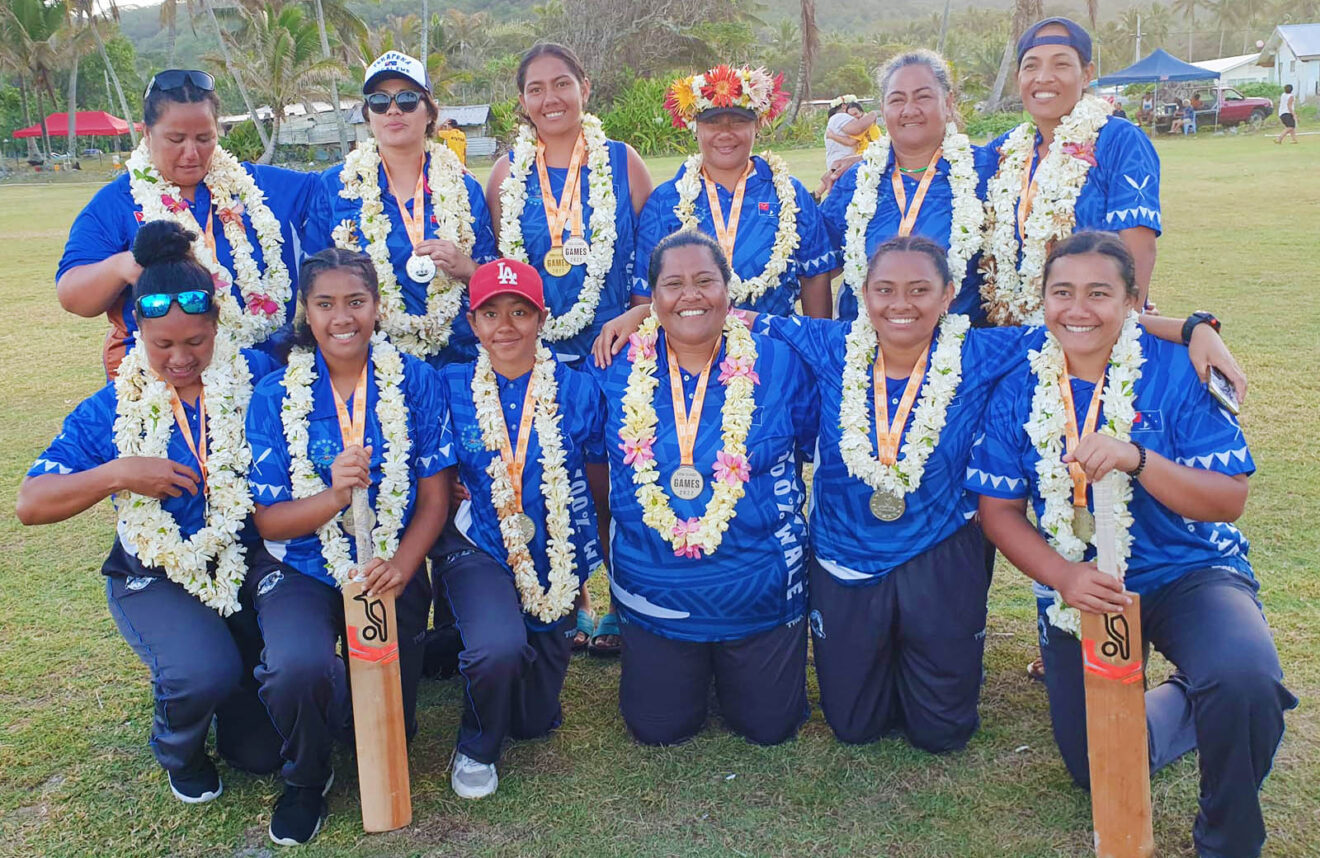 Victoria Wuatai Silver medal in open women's cricket.
Congratulations to all that participated in the games. We look forward to seeing you compete next time in the Cook Islands Games 2024
Hon Rose Brown, leads a delegation to Samoa with SoH Bob Williams, SoA Temarama Anguna, CEO Man Unuia, Tekura Moekaa of NES for the SIDS Solutions Forum 2022

Tutaka Week, 12 - 22 December 2022

Child Immunisation every Fridays, 9am to 3pm. Please call Tupapa Primary Health Care on phone 20066 if your child is due for vaccination

Cook Islands NCD STEP Survey Preliminary result to be ready soon. Next phase is to write the NCD STEPS Report 2022

Festive Season Awareness programmes, Alcohol/Road safety, Food Safety, Water safety, Disaster Awareness month of December 2022 to February 2023

New mental health facility construction at the Rarotonga Hospital next to the Pharmacy storage downhill

Mental Health office relocates to Minister Hon. George Angenes old office, beachside Tupapa Administration block

National Health Information Bulletin 2021 near completion.