In this edition we are focusing on men's health, well-being, and our dedicated team of male health professionals at Te Marae Ora.
The late Dr Andrew MacDiarmid (Dr Andy) is one of the male health professionals the Cook Islands had the benefit of during his frequent visits here over the last 30 years. During this time, he operated on more than 3,000 of us, alleviated our suffering and putting us right again.
Our local doctors who worked with Dr MacDiarmid also benefitted from the training, skills and mentoring he gave them. As our own Dr Deacon said, I am lost for words on how to describe this true Cook Islander and a Cook Islands warrior. He had a huge impact on my training in New Zealand and his ongoing support has been so overwhelming.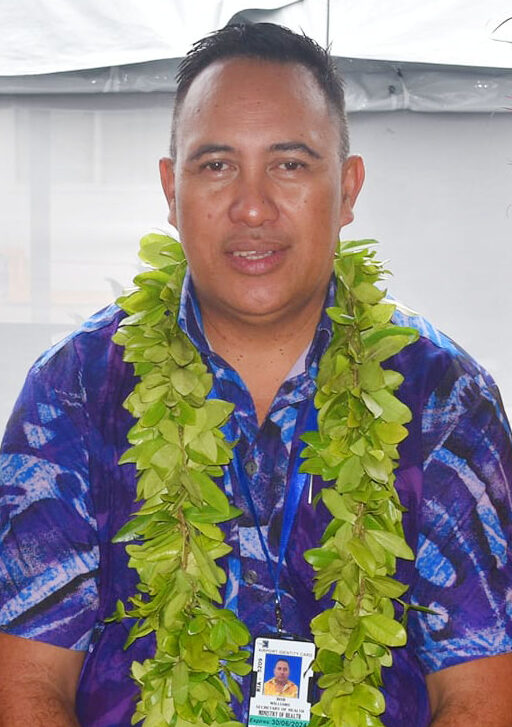 Secretary of Health Bob William
s.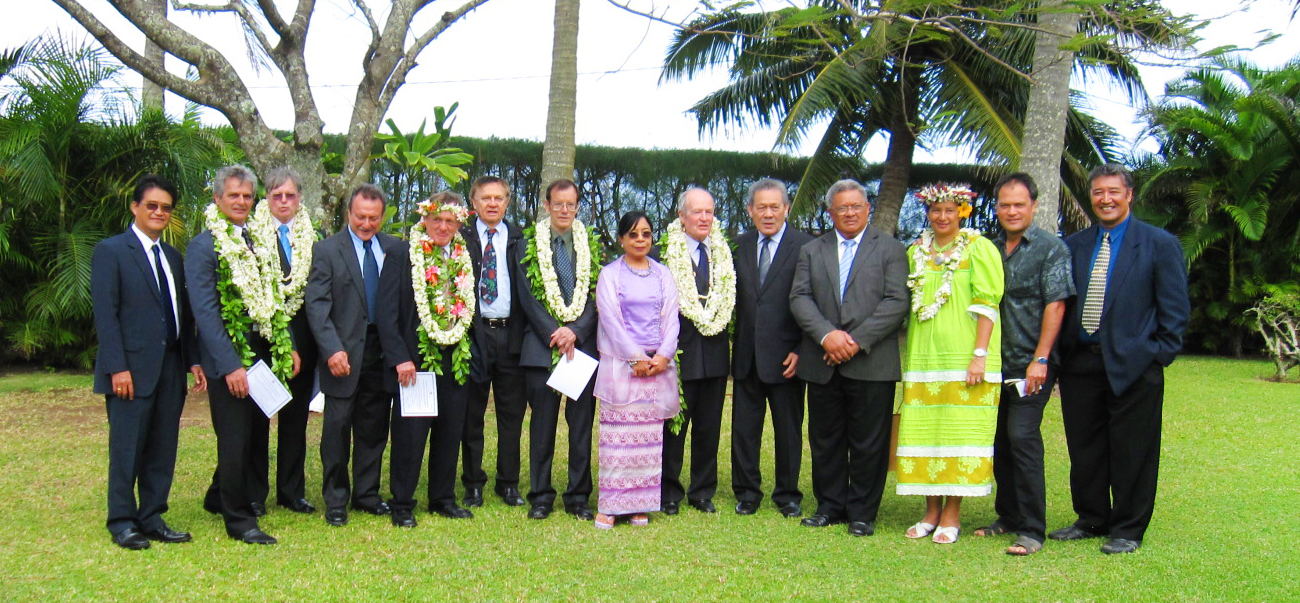 Dr Zaw Aung, Dr Paul Rosser, Dr John Veale, Dr Teariki Noovao, Late Dr Andrew McDiarmid, Dr Teariki Tamarua, Dr Robert Eason, Dr Yin Yin May, Dr Michaele Webber, Late Dr Joseph Williams, Late

Honorable

Nandi Glassie, Elizabeth Iro, Dr Teariki Maoate and Tupou Faireka.
Aere ra e Toku Taeake kite rekarekaanga o toou Pu.
For the last month the men of Rarotonga have had the opportunity to benefit from the Male Health Clinics Te Marae Ora has, in conjunction with the Rotary Club of Rarotonga. These clinics provide our fathers, brothers, uncles, papas, sons and male friends the opportunity to check up on their state of health and to ask questions of the all-male medical team that they might have been too shy to ask of female health professionals. We've all had those experiences.
Improving everyone's health is a two-way process involving men, women, anau and health services combined. Statistics show us that men pay less attention to their health than women do; are less likely to go to the doctor when they feel unwell. Men are also more likely to smoke, drink, take more risks and generally live a less healthy lifestyle. When it comes to prevention and early detection, men's health often takes a back seat. But, it doesn't have to be that way.
It's important that men make use of health services to preventatively manage their health and find out before it's too late if problems do exist. But equally, health services need to know how to reach out to, communicate with and engage with men and to be effective in helping them when they do come for help.
These health clinics provide an alternative access to medical advice and care for men who have difficulties in making (or keeping) appointments with our doctors or nurses during normal working hours. I'm hopeful that these clinics are going some way to identify and treat or cure undiagnosed or new health problems. Improving patient education and providing preventative treatment regarding NCD's, and discussing healthy lifestyles is not only good for the men themselves, but, indeed for all of their families and our community at large.
Never give up
Our feature story looks at the health journey of three men who are choosing to make changes to their lives in order to lead healthier lives.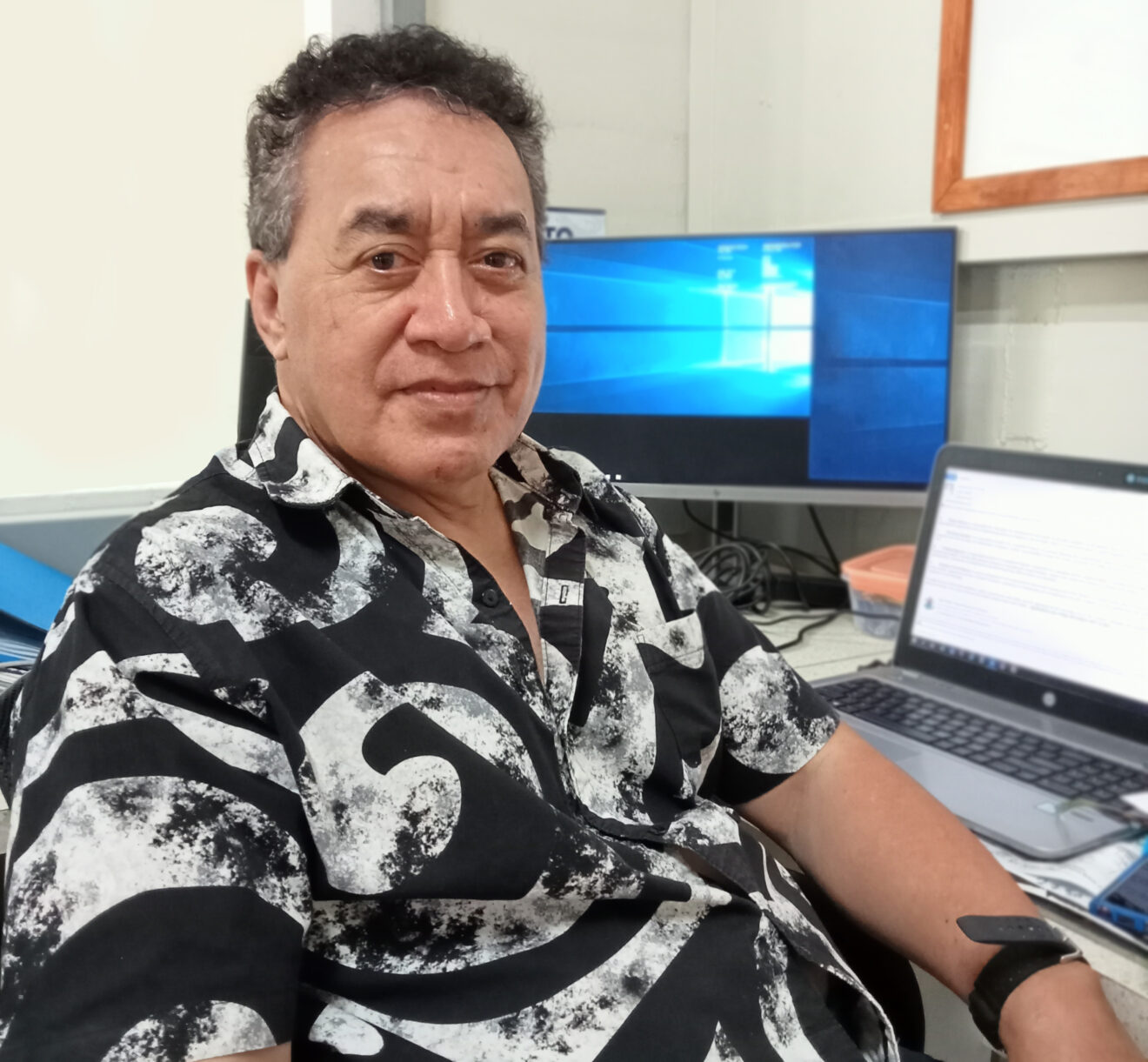 Tai Nooapii at Public Health Office.
Tai Nooapii, from Rarotonga, currently living in Tupapa shared the following narrative of his road to recovery following an accident.
A few years back I was involved in a motorbike accident and was referred to New Zealand for treatment. I injured my spine and was told by my doctor that I wouldn't be able to walk again. I was told that I would spend most of my days in a wheelchair; and being hoisted with a hoist pulley.
One day while I was in my wheelchair on my front porch, I saw a few of my mates drive pass on their bikes. They had just finished work and they all waved at me as they drove pass. The feeling of being stuck in that wheelchair and not being able to go out really hit me. So right there and then, I wheeled myself to the front rail on the porch, grab the rail and tried to pull myself up to stand. Sure enough I ended up on the floor but I was determined to be out of this state. I will walk again.
Each day I kept trying to pull myself up using the rails. After a few weeks, I felt tingles in my legs with slight pains. This was a good thing because there was feeling in my legs again. From that day onwards, I grabbed that rail and pulled myself up. I progressed to moving side to side, dragging my legs down along the side rails and up again. A friend Donna Smith helped a lot with my recovery training. My friend Allen Sullivan helped me with weight training at Puai's gym opposite the airport, gym fee waivered.
Today I am back working at the Public Health as the Sewage and Sanitation Advisor. On my lunch breaks I have gym sessions at the TMO gym with my trainer Urirau. I walk with the support of my crutches in and around the workplace, I go to the gym and do weights workouts, and I also walk on the treadmill.
I have changed my lifestyle, adapted a healthy diet, minimised alcohol consumption and gave up smoking 10 years ago. I'm slowly improving my health and very soon I will be walking normally again, that is my goal. Who knew that this would happen but God only.
At this time I would like to say thank you to my family, friends and most of all to my partner for helping me get through these difficult times. I can't thank you enough.
| | | |
| --- | --- | --- |
| | | I also have a message to all the men out there, look after yourself, stay healthy, get checked by the doctor and exercise regularly. A 30 minute walk won't hurt you one bit. Never give up. |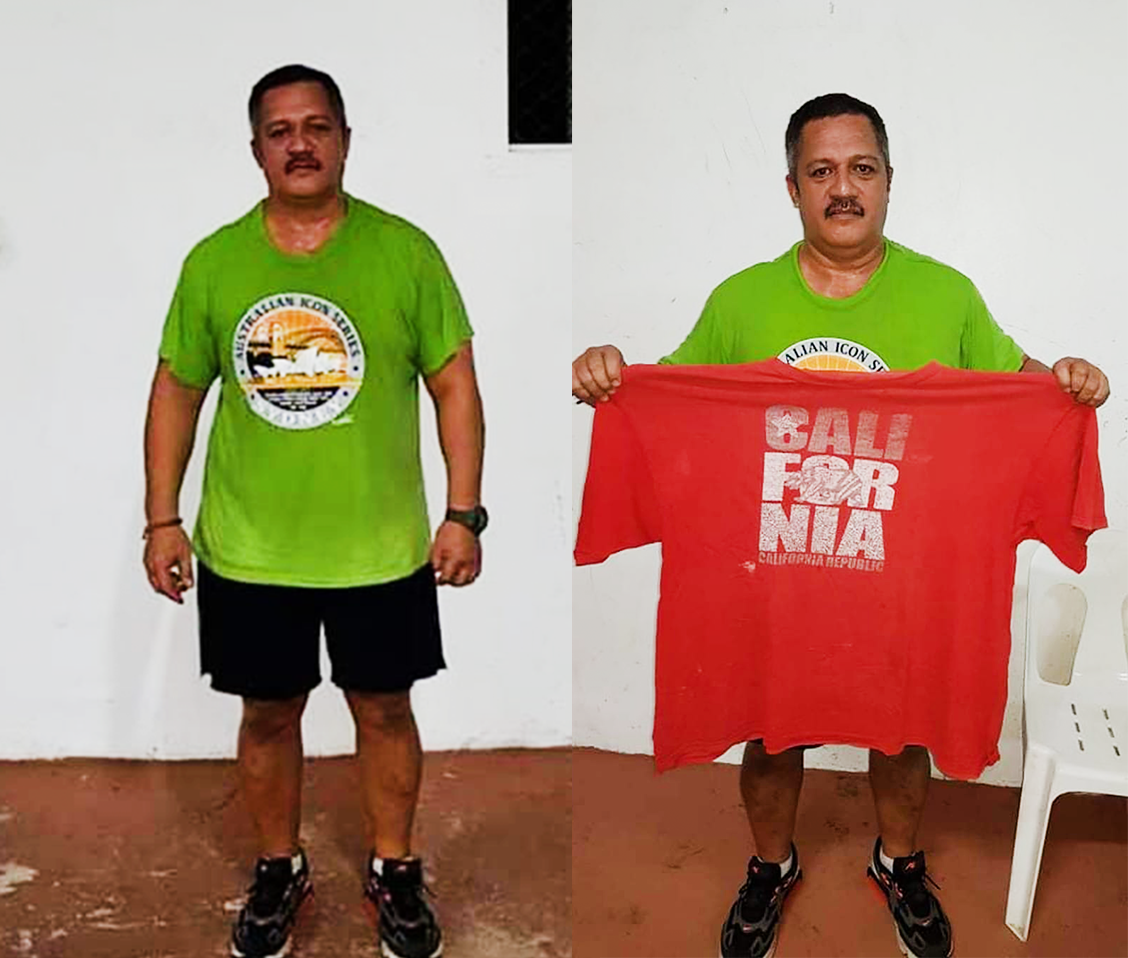 Leighton Boaza at Johnsons fitness class. Image

courtesy

of Johnsons fitness.
Leighton Boaza from Atiu, currently living in Arorangi shares with the readers the following narrative.
Back in the 1980s in my youthful days, I was slim, active, played sports and did everything a person could do to enjoy life. However, as life went on I got a little bit older and the years began to catch up to me. Everything slowed down and I was relaxing, eating and drinking more. That kind of life seemed pretty good. Towards the end of 2019 I had a wakeup call. I was heavily overweight, short of breath and had difficulties breathing when sleeping. I then decided my only resolution for 2020 was to lose weight.
A friend of mine introduced me to the Johnson 5am fitness class at the Tupapa Centre. Joining the Johnson fitness class changed my life physically, mentally and socially. The exercises were so simple to follow as they were conducted by Tere Strickland and his amazing instructors. I joined Johnsons in February 2020 weighing 122kg and now I am weighing at 92kg with a weight loss of 30 kilo. This was a life changing process and a life time investment.
Being overweight is a scary epidemic, a silent killer worse than COVID-19. You may not be at your healthy weight but at least you're not obese right? Wrong, it deceives people to stay in that comfort zone. It can paralyse you physically, mentally and socially. Being overweight does not make you safe, it makes you decide to change your life for the better or worse. You may feel discouraged at times just as I did, but don't give up, you need to fight and win.
| | | |
| --- | --- | --- |
| | | No matter how big or small you are, it's not too late, join a fitness class and together work out things.... |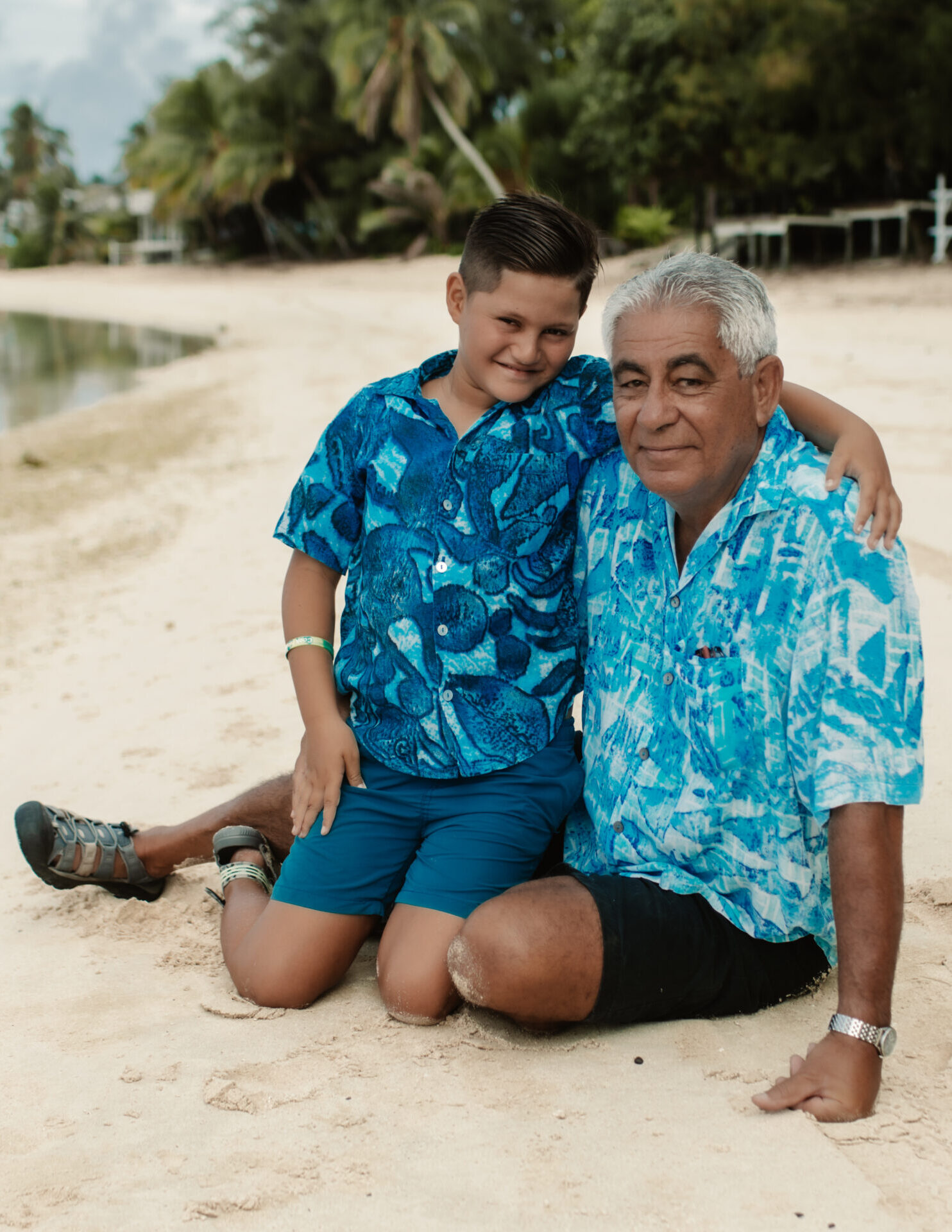 Derek fox with his son Tinirau at the beach. Image courtesy of Derek.
Derek Fox lives in Tupapa with his family and shares with the readers his health journey narrative.
About twenty years ago I noticed I needed to urinate a bit more often. It was a bit annoying; there I was enjoying a few beers after work with my mates swapping tall tales and after a couple I needed to go to the toilet again. It started to ruin the flow of the conversation and yarn swapping.
I also noticed that I needed to get up two or three times during the night for the same reason; and frustratingly a once powerful flow was sometimes reduced to a very unsatisfying trickle.
I knew what the issue was, I'd read the literature and taken notice of the warnings; and unlike some of my friends, whanaunga and colleagues, I decided to do something about it. I was a little fortunate – or maybe had unconsciously given it some fore thought earlier in my life – in that I had medical insurance. The company I worked for, and owned, offered our staff medical insurance in lieu of a pay rise one year; at the time I was a little sad in that most went for the pay rise.
So here I was reasonably sure I had an enlarged prostate gland and determined to do something about it. My GP, also a cousin, set up an appointment with a surgeon who specialised in prostate treatment. Tests followed in short order, and it was confirmed that I did indeed have an oversized prostate which was impeding the ability to completely empty my bladder when nature demanded it. I was given three choices. One do nothing – not an option. Two – treatment with drugs, which had a downside of affecting my blood pressure. I discounted that one too because I have a pilot's licence and having fluctuating blood pressure would almost certainly affect my ability to pass a pilot medical. So, there was only one choice. surgery. Because of my medical insurance the surgeon pretty much asked me to pick a date when I would be available for the operation, and he would make arrangements with a private hospital in Tauranga where he was based.
The surgery went like clockwork. It was carried out late in the afternoon and by mid evening I was awake and talking to Jaewynn. I had a comfortable night and was discharged the next day but asked to stay in the Tauranga area for another night and to phone the surgeon next day to report my condition. Yes there was a bit of blood and gore passed out – the remnants of the gland shot up by a laser – but otherwise everything was fine; with me at least.
During our extended stay in Tauranga, we caught up with some old and dear friends, and over coffee I couldn't help but notice that my friend – an ex-SAS trooper, about the same age as me – made several trips to the bathroom.
That afternoon I gave careful thought to how I might raise this delicate matter with him. Blokes don't talk easily about these things, but I was very concerned for my friend. You see he had fought in Vietnam and because the SAS spent most of their time in enemy territory, he along with many of his colleagues, had been sprayed with Agent Orange. Already a disproportionately high number of his mates had died from issues like prostate cancer.
That evening over drinks and nibbles we talked quietly about what I had just been through and skirted gently around how he was fairing, and about the mates he'd lost. Later I gave him the name and number of the surgeon who'd treated me and encouraged him to make a call, and to mention my referral.
In the weeks that followed he did call and did go and see the surgeon. My friend didn't have medical insurance, but in an example of the kindness that humans can extend to each other from time to time, he, the surgeon and the anaesthetist, reached an arrangement whereby they would perform the operation free of charge; although the hospital fees would still need to be covered. They figured he'd served our country well and wanted to repay him in some way.
My prostate proved to be non-cancerous; my friend however wasn't so lucky, maybe the operation was too late, I don't really know. He and his partner enjoyed many more months of life together before he finally succumbed. He died while I was here in Rarotonga, but fortunately I was already booked to fly back for business to Aotearoa and was able to attend his funeral. It was a bleak cold rainy day and fresh from the warmth of Tupapa and without the warm clothes at my house further south, I was a sitter for a heavy cold; but being there was worth it. His resting place on a knoll southeast of Tauranga is a beautiful spot. Inland stand the Kaimai Ranges, to the east lies the Pacific Ocean.
I would like to say that he is my only friend diagnosed with prostate cancer, but he is not. I have three other very close friends all of whom have had radical prostate surgery. We are all the same age, and whereas I took action two decades ago, they have only relatively recently sought treatment, and only after some serious symptoms not early warning signs.
One of them has been advised he has 'months' left. Another after a very busy life of always tackling some hair-brained project or other, now spends much of his days inside sitting in a comfortable chair watching television. The third – a farmer, has sold his farm – and keeps himself busy each day working on a lifestyle block he will retire to. Of the three his prognosis appears to be the most promising. But then again what do I really know.
I am telling you their stories not for my or your amusement, but to encourage the men in our community - and the people who love them – to undertake the health checks on offer. We will all have health issues as we grow older – drat it – but the earlier those checks are made and the issues detected, the more chance we have of dealing with them appropriately.
When I was first asked to write this, I resisted. You see like all blokes I wasn't interested in having my internal workings and ailments publicly aired. But then I thought of my soldier friend, whose company I might still be enjoying if he'd got help earlier. So, with him in mind I have one further secret to reluctantly share.
During one of my visits to Aotearoa earlier this year, I just happened to be at home when a couple of nurses called by the house; which is in quite an isolated area. One of them happened to be a Cook Islander, and the purpose of their call was to see if I would participate in a bowel screening programme.
I reluctantly agreed. I duly did what was required and waited for the test results. I'm sure my blood chilled a little when I got the call from my GP; there was something amiss in the test, and the hospital wanted to perform a colonoscopy. Written confirmation arrived a short time later with an appointment set up some weeks down the track.
The wait seemed to go on forever, and consulting Dr Google to find out what was going to happen and why, didn't improve my anxiety levels. Finally, it was time. Firstly, I had a two-and-a-half-hour drive to the hospital. Then in the build up to the procedure there was a brew I needed to drink over a period of hours; before presenting myself first thing in the morning to the clinic.
I realised quite early that it was probably best to leave one's sensitivities at the front door and the skimpy 'open-to-the-elements' gown I was invited to don certainly reinforced that. I further bit the bullet and agreed that my treatment could be used as a tutorial for a group of nurses and prior to nodding off under the influence of the anaesthetic, I did note that of the eight people in the room I was the only bloke.
Now guys, I know I haven't painted a very welcoming picture here with my description of what happened, but I do it to show that I had all the concerns and anxieties you might have too. But I survived it, and if I can, so can you. The colonoscopy didn't reveal anything to be worried about and I certainly went home a happier chap than when I arrived. But I want to reiterate that I have written this because I want our men to take the health checks, and future health checks too.
| | | |
| --- | --- | --- |
| | | Do it for yourself and your whanau and enjoy more time with your mokopuna. |
These three men all carry the same message to all men - It's never too late, never give up and never say never. Change may not come easy but the rewards last a life time. Get healthy, get active and get checked at the men's health clinic.
Dr Rangiau Fariu
Mental Health and Mens Health Doctor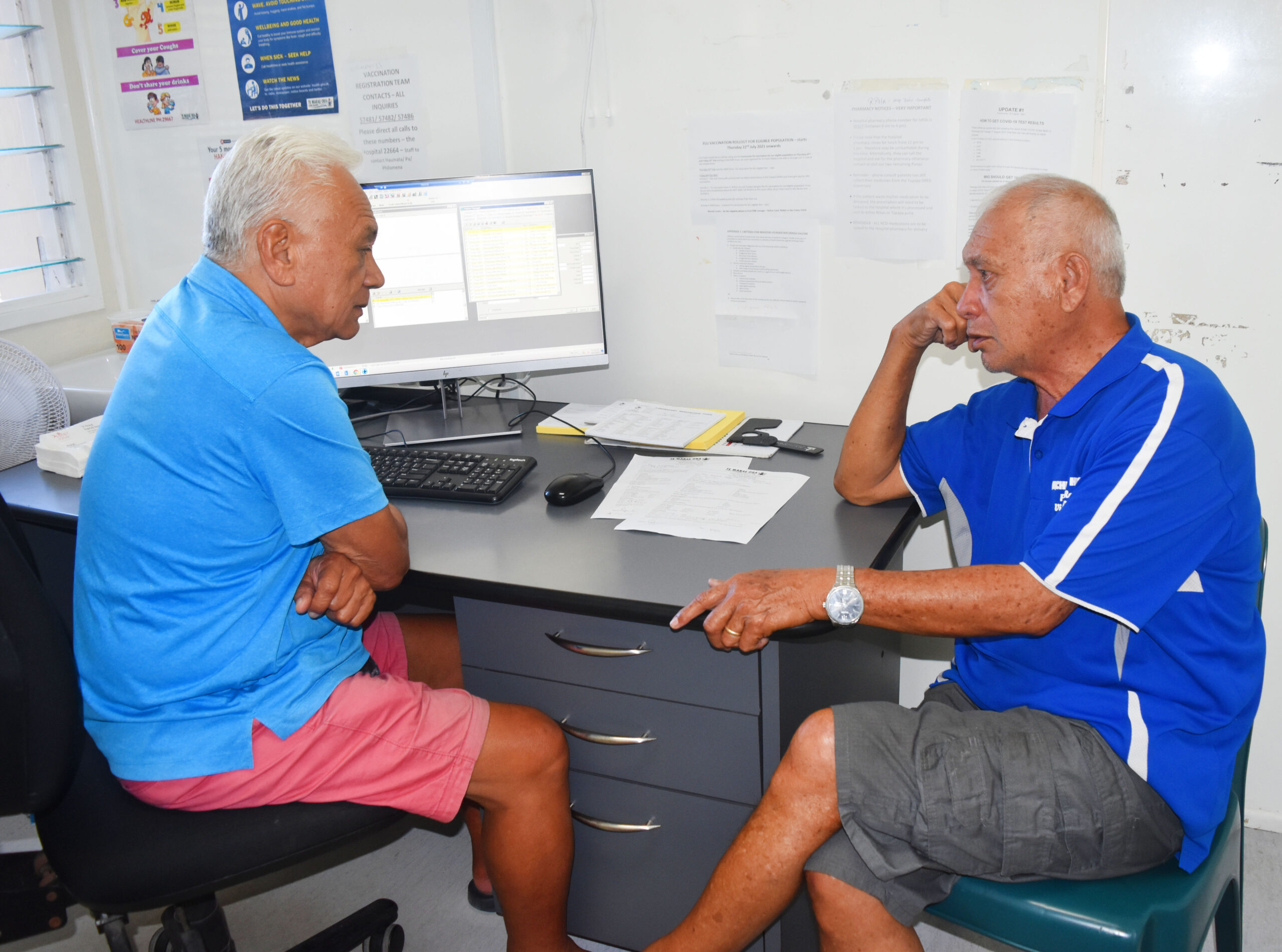 I completed my studies General Practitioner at Fiji School of Medicine in 1969 but stayed on for another year to study anaesthesia because at the time the Anaesthetist -Dr Ngaei Tou at Rarotonga Hospital was close to retirement and I was to train as his replacement. In 1970 I returned to the Cook Islands from Fiji and I worked in Rarotonga Hospital.
In 1973 I went to Mauke to be the resident doctor. I stayed in Mauke for one year. In the Cook Islands during the 1970s, the Cook Islands population was well over 20,000 people with Rarotonga hosting around 15,000 of the population. At the time there was only a team of 10 doctors. Although we had a small number of medical practitioners we coped well with looking after the people.
We overcame the challenges in looking after our people with the lack in staff by working twice as hard. The doctors were rostered to work at the outpatient's clinic and deal with emergencies even though we had our own specialised fields. It was our duty to take care our people and being specialised in one field doesn't mean that you just stay in that field and not practise in the other areas. One moment I will never forget during that time - being the youngest doctor out of the lot - doctors like Dr Joe Williams, Dr Ngaei Tou, Dr Teariki Matenga, Dr Don George, and others, I was more or less the runner for these doctors. At one time all the doctors planned to go on strike due to the low wages. Dr Joe Williams was the leader and I was his runner. I had to organise the rally and the strike. The news of the strike by doctors reached Albert Henry who was the Premier at the time. Everything was set ready for the strike but the following day, Dr Joe Williams called off the strike as the Premier told him that if the strike goes ahead, we would all be fired and doctors from Fiji and Auckland would replace us. Although we did not carry out the strike to our surprise we had a small pay increment. My salary was $4,000 a year at the time and prison warden was getting paid more than me.
In 1974 I decided to undertake studies again specialising in mental health at Middlemore Hospital in New Zealand. In 1975 I returned to Rarotonga and resigned my position at Rarotonga Hospital and went back to New Zealand and Middlemore Hospital working as an Anaesthetist. Later with my studies complete in mental health I worked as a practitioner in mental health.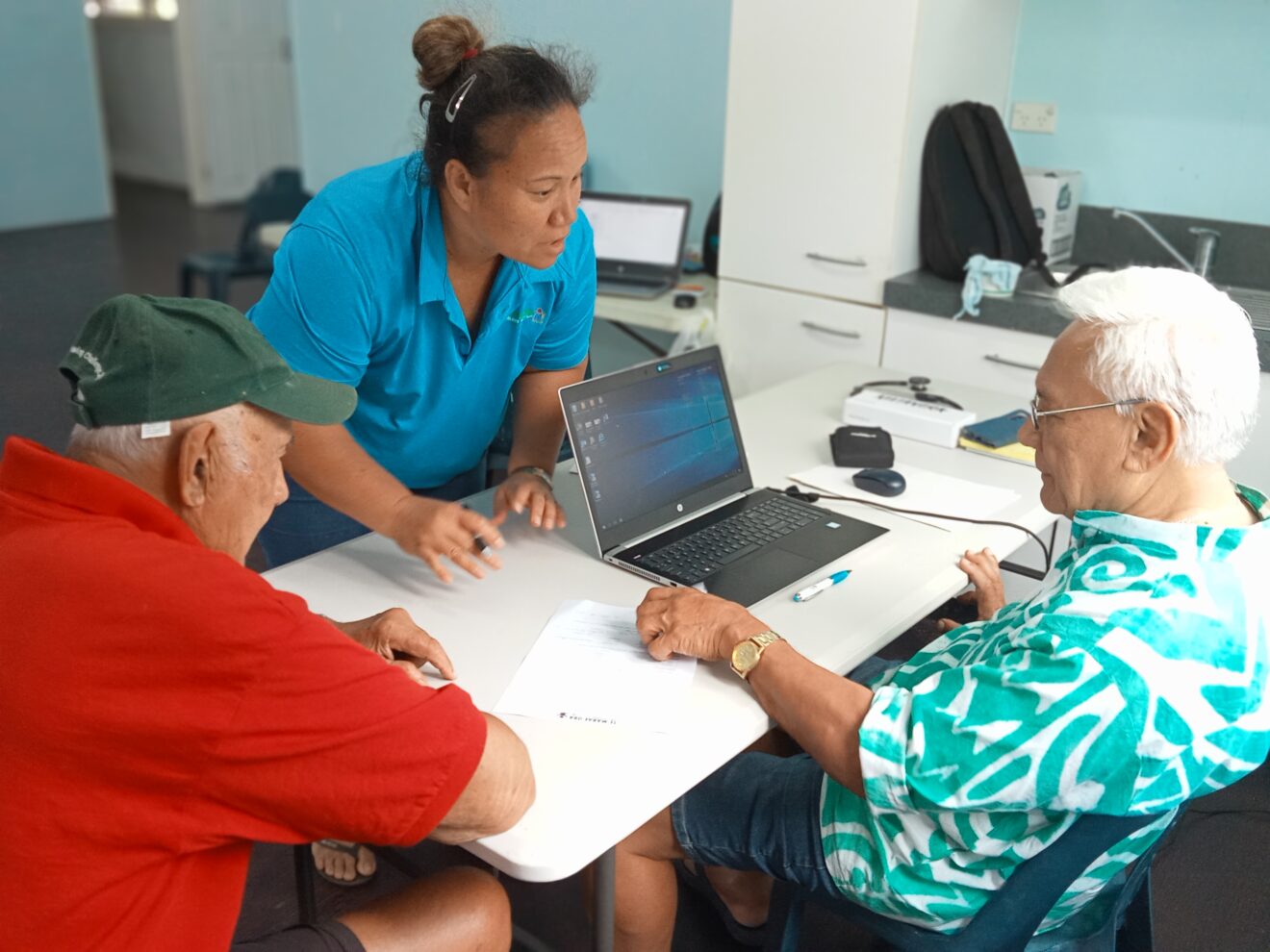 Mamahotu Tararo and Dr Rangiau Fariu tending to patient at the Mens Health screening in Arorangi.
I worked at Middlemore for 25years but in 1999 I decided to return to Rarotonga to start a private clinical practice in Akaoa, Arorangi in front of my house.
However, in 2004 the then Secretary of Health Tetupu Araiti asked me to work for Ministry of Health to take up the role of Manager for Mental Health. Since that time I have remained in the field of mental health and retired in 2018. Although I was retired I was re-employed again in 2019 specialising in mental health and men's health.
Although I often have a busy schedule in my spare time I like to take care of my garden, pretending to be a mechanic and socialising with others.
A Health Clinic for men
Men in the Cook Islands have high incidences of non-communicable diseases, hypertension, diabetes, respiratory illness and obesity. This can be due to men being unable to attend healthcare services during normal opening hours as they are often at work. As a result men often put on hold their health concerns which can lead to consequences later in life. Additionally there has been no systematic health screening of men in the last 10 years - the last one being held was in 2011-12 which was sponsored in partnership with Rotary. In order to fill this gap Te Marae Ora in conjunction and Rotary Club of Rarotonga began the Men's Health Screening Programme in early October 2021.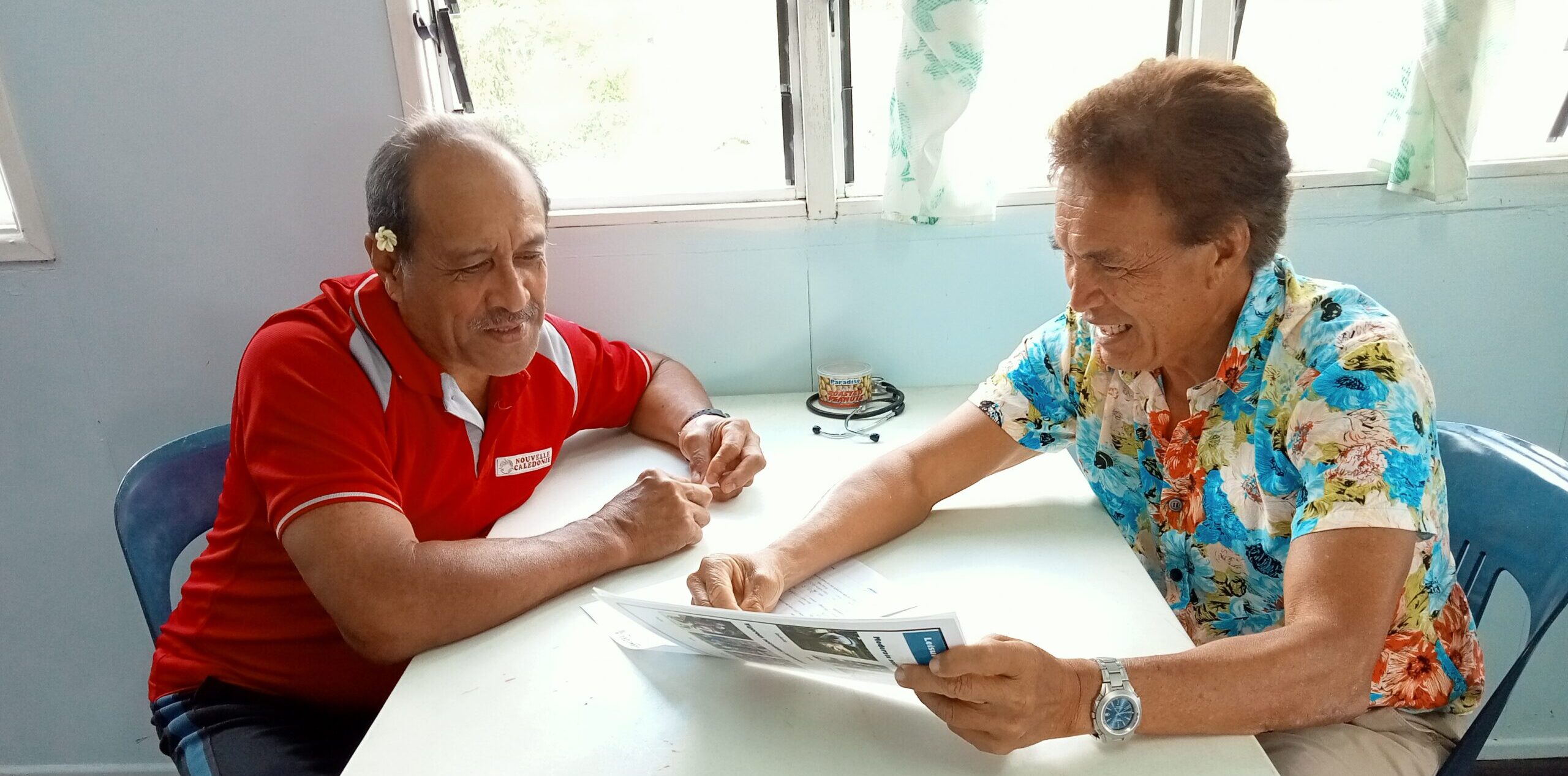 Patient being consulted by Dr Tikaka Henry.
The Men's Health Screening Programme aims to screen 300 men between the ages of 18 and 70, who have not been seen by a doctor in the last two years or who are unable to get time off work to attend a doctor because of work commitments. It is important to identify early potential and actual health problems and begin preventative treatment and education for screening to occur. Early intervention reduces the costs as well as the co-morbidity and mortality for men.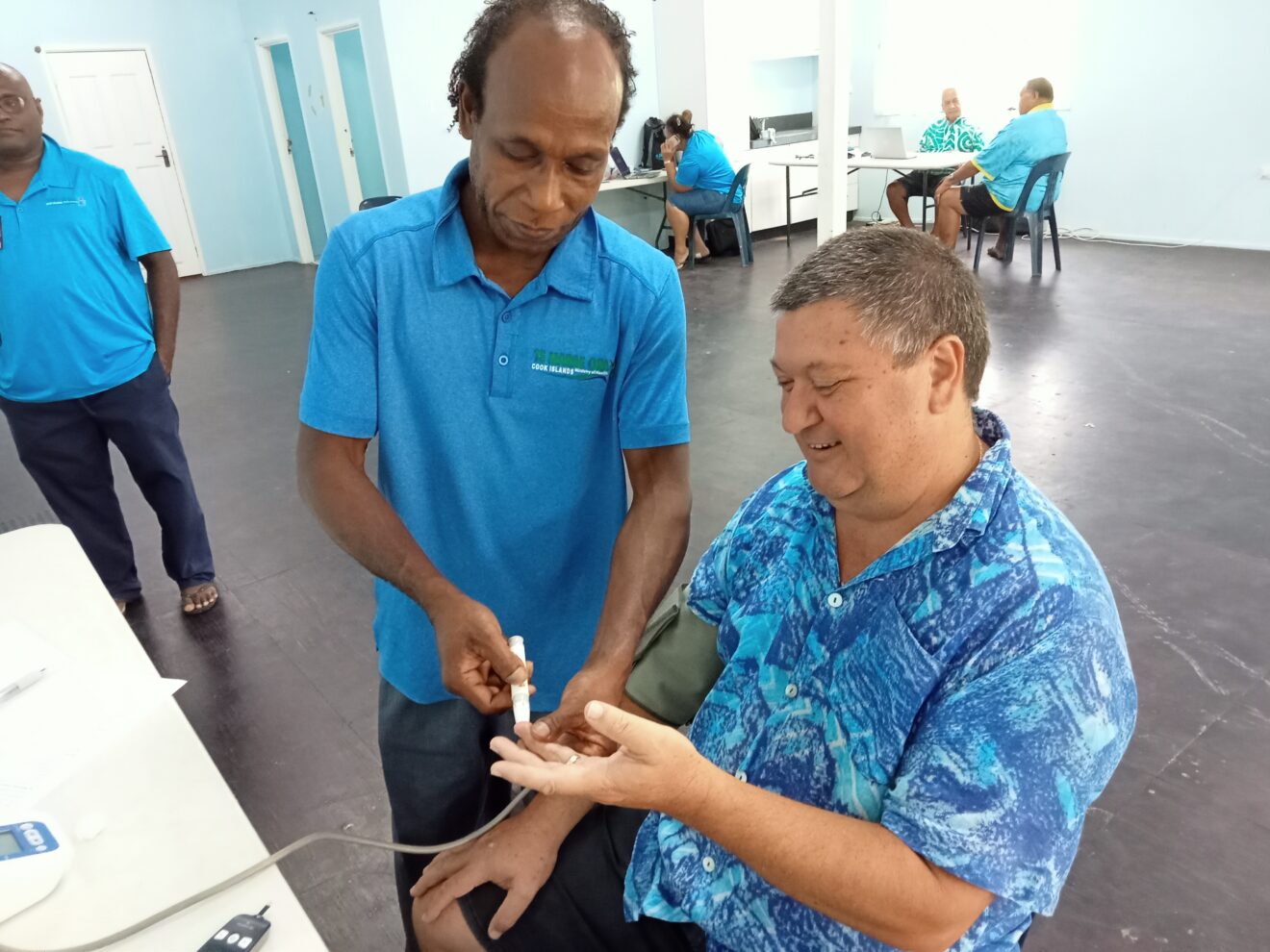 Alfred Hendy assessing patient.
The programmes objectives are to:
Improve access to medical facilities and care for men who have difficulties in making appointments at the Hospital during normal working hours

Identify and treat or cure undiagnosed or new health problems

Improve patient education and provide preventative treatment regarding NCD's, and to discuss healthy lifestyles thereby reducing the hospital admissions of men and to decrease alcohol related motor vehicle crashes.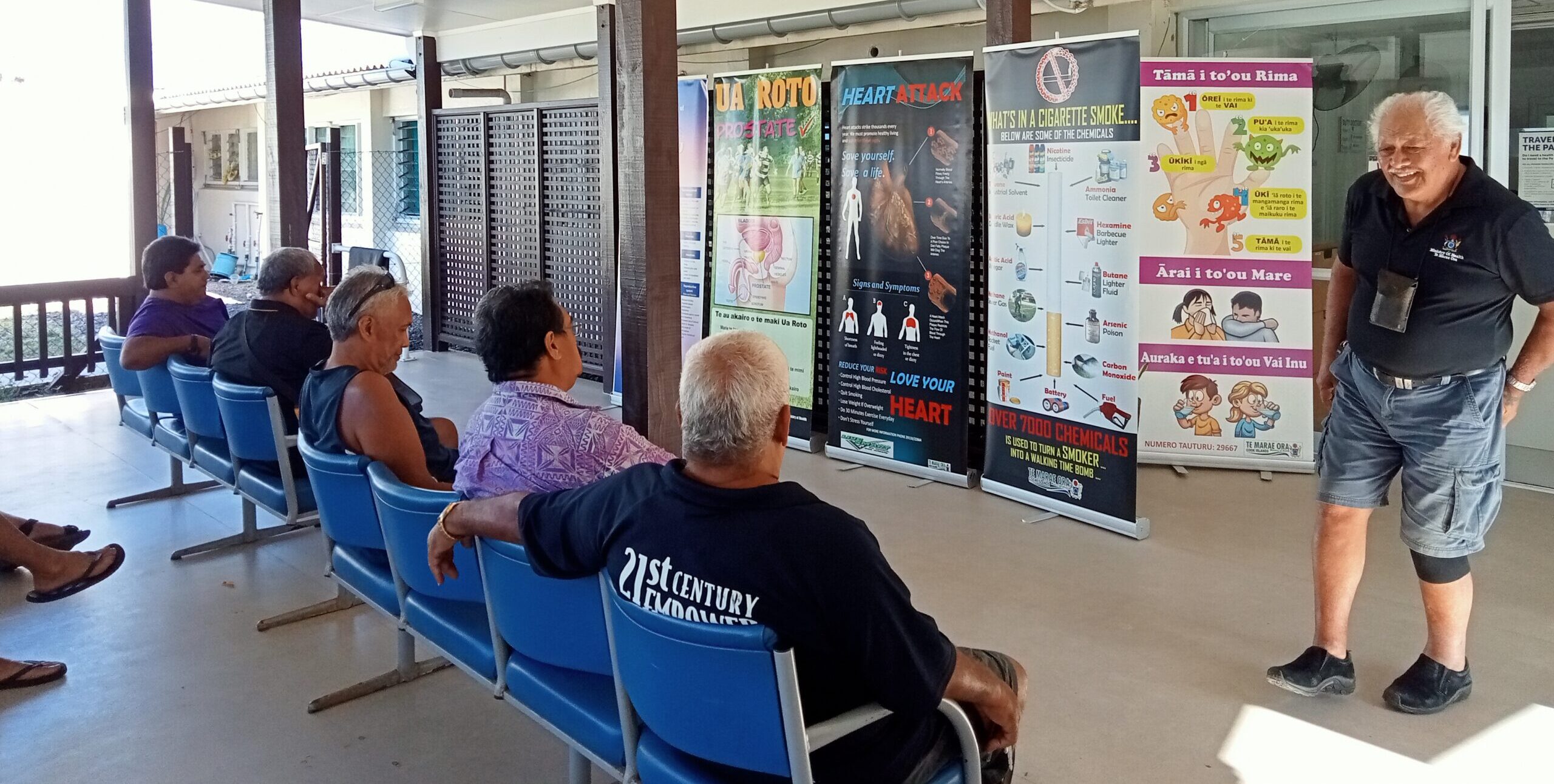 Rangi Aitu educating men on prostate cancer at the Mens Health Clinic in Tupapa.
The clinics are being held every Wednesday from 4.00pm to 8.00pm over a 12 week period and are staffed by three male nurses, a receptionist, a Men's Health Co-ordinator and a Public Health doctor. Ten-minute appointments are made with the male nurses, who will screen for eyesight problems, sugar, cholesterol, height and weight, given a BMI- (body mass index), questions will also be asked around alcohol and smoking consumption along with any family history of illness.
It is anticipated that after the 12 weeks a review of the programme will be undertaken.
Mental Health and Wellbeing
Supporting the mental health of our Cook Islands people is a priority for the Mental Health Team at Te Marae Ora.
In the last 12 months over 200 people a month have met with our team in Rarotonga on a range of mental health needs including general mental wellbeing and stress, relationship difficulties, addictions, dementia, and more common mental illnesses including depression, anxiety, PTSD, and schizophrenia. To meet this demand, the Mental Health Team has grown substantially over the past year and now comprises six clinical staff and an administrator.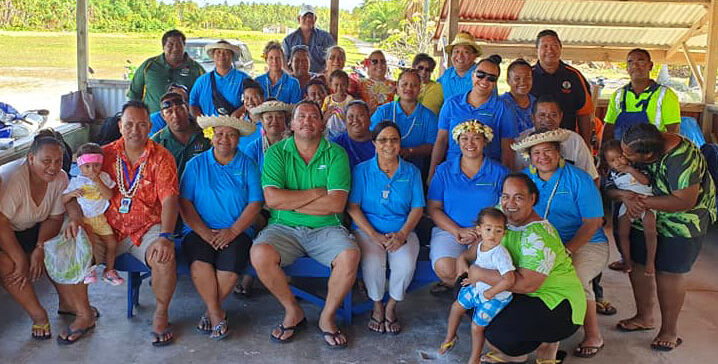 Te Marae Ora staff at Penhryn airport.
One area that we are now beginning to address is our services to the Pa Enua. The additional staffing has allowed us to expand our support to the Pa Enua. So far this year in 2021, our team has delivered mental health services on Aitutaki, Atiu, Mauke, Rakahanga, and Manihiki. Most recently, Dr Fariu and Mamahotu Taroro have been to Mangaia, working alongside Merana Taikoko and Te Kainga. Each island has its own focus, however typically our staff see individual patients and family for assessment and treatment, deliver interventions, medication reviews, runs group or school education programs, and engage in dementia and psychogeriatric screening of all our pa metua.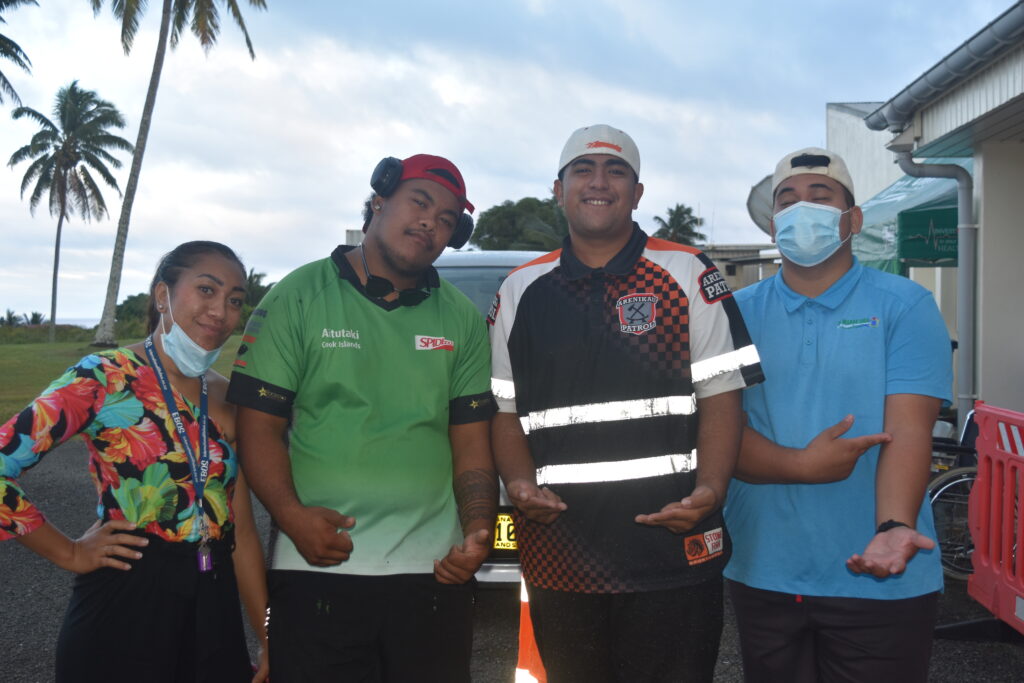 Te Marae Ora staff with volunteers in

Aitutaki.
By the end of next year the Mental Health Team hope to visit each of our Pa Enua – some for the first time in a number of years. Our team also engages in telepsychiatry providing online zoom therapy and assessment sessions. We would like to acknowledge our hard working pa enua nurses – who work on call 24/7, often supporting complex cases with no on the ground support – tei mua kotou.
Slow and steady, we continue to work for our people helping them with their mental health wellbeing.
World Aids Day 1 December

The Health Protection Sewage Sanitation Unit would like to remind the public to report any foul odour or overflow septic tanks to Public Health on phone 29110.

The Sewage Sanitation Unit would also like to remind the public that if you are planning to build a new home, you must apply for a permit first at National Environment Services (NES), Public Health and ICI.

Please note that the Pa Enua Exit Screening for Human Respiratory Syncytial Virus (RSV) and Dengue Fever was discontinued/suspended on 29 October 2021, for both air and sea until further notice.

The Food Safety Unit at Public Health would like to remind the people selling raw and cooked food products that you must have a food license to sell these produces. If you don't have a license please contact Public Health on phone 29110 to acquire a license.

Rarotonga public information on the Cook Islands New Border Settings - Mitigation Strategy: venues and dates will be confirmed and advertised on media. Here are the proposed dates:

Teau-o-Tonga – Wednesday 10 November 2021 – 6.00pm

Nikao – Thursday 11 November 2021 – 6.00pm

Puaikura – Friday 12 November 2021 – 6.00pm

Takitumu – Monday 15 November 6.00pm

Tupapa Primary Health Care opening hours: Monday to Sunday 8.00am to 4.00pm. For after-hours services refer to Rarotonga Hospital.

For Dental Services Ring 29312 for appointments, for emergencies please ring Dr Danny Areai on mobile 54312

Te Marae Ora is a silver sponsor for the Autism Awareness programme

Te Marae Ora is a sponsor of the Secondary Colleges Awards - Nukutere, Tereora and Titikaveka Colleges. The awards are Excellence in Health Science, Excellence in Sports and Science.