E reo aroa Kiritimiti e te Mataiti Ou kia kotou katoatoa – a warm Christmas and new year greetings to you all.
Kia riro te aroa ua o te Atua i te tiaki ia tatou
iti tangata Kuki Airani i teia tuatau
Kiritimiti e te Mataiti Ou.
Karere Ora editorial team.
From the Secretary of Health
Christmas Greetings to you all
Last weekend our staff and country reached another milestone in our efforts to protect our people from COVID-19. In the most recent vaccination session 191 doses of the Pfizer vaccine for COVID-19 were administered.
Included in this number were first doses for fourteen 12-15-years-olds and 50 people over the age of 16 years. So, right now 96% of the eligible population in our country is fully vaccinated and 99% of our people have had their first vaccine dose.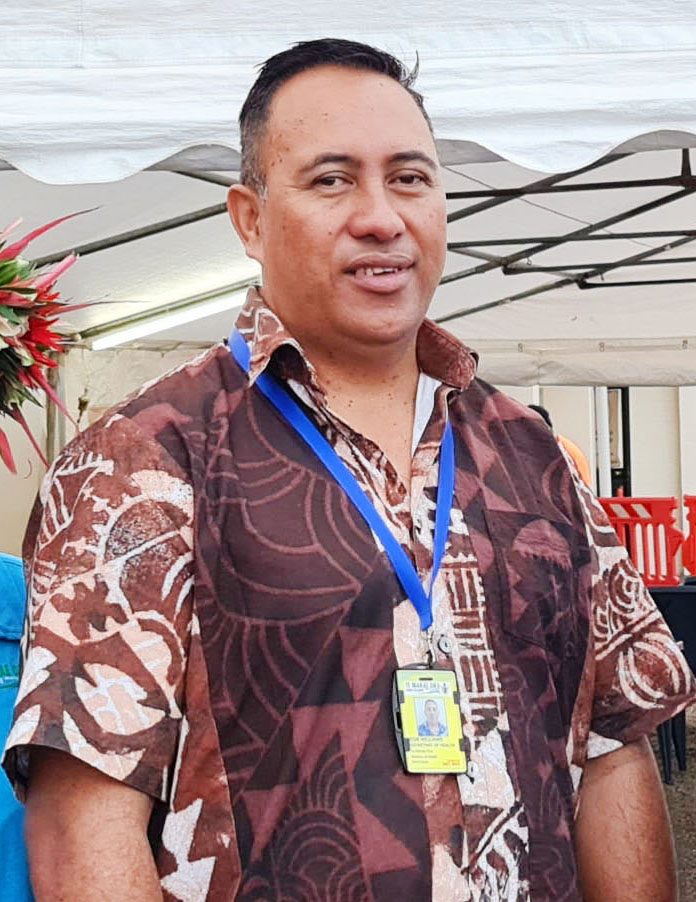 Secretary of Health Bob Williams.
Earlier this week some of your colleagues and I met via zoom with our counterparts in New Zealand's Ministry of Health. As a result of this meeting, we now have confirmation that the supply of vaccines for the country's third dose will be arriving in Rarotonga on 16 December, dates for the roll-out will be confirmed in the next week.
A third dose is supported by the science which suggests that a course of three doses may be required to achieve long term immunity.
Also, early in the new year we are expecting the arrival of the vaccines for our 5-11 year olds. New Zealand is hoping to start the roll-out by the end of January, subject to it being approved by MedSafe. Vaccinated our tamariki will help to keep them safe.
This is excellent news and ensures that we will have taken every practical measure to protect the Cook Islands people from COVID-19 infection, to keep individuals safe. This third dose will boost people's protection from serious illness and possible death, even further. Thank you New Zealand for your continued support. It will help to keep us all safe.
Those figures I mentioned earlier make us the envy of many other countries around the region and the world; but as we know, that's not why we're doing it. Instead it is to try and shelter our people, and keep them safe from the worst effects of the virus that has infected more than 260-million people worldwide, and killing more than 5-million; that's the equivalent to every man woman and child in New Zealand. Imagine that.
This pandemic is the biggest threat to humankind since World War Two, that's pretty sobering to think about too.
So I want to thank you all for your efforts in this work. Later this week we will receive another cohort of our people back on a repatriation flight from New Zealand, the last before we are scheduled to open up again to quarantine-free visitors from New Zealand in mid-January.
It is becoming a bit of a cliche to say that we live in challenging times, but it is so very true.
For all but 3 of the last 20 months we have had our country to ourselves. Our borders have been shut tight except for that short travel bubble with New Zealand. We have been safe.
Our government, acting with input from TMO and our health colleagues in New Zealand, and taking into account the state of our economy, and applying an abundance of caution, has decided to reopen to New Zealand again.
As you know there will be conditions. All visitors must be double vaccinated and must have a clear covid test before boarding their flight. We will expect hygiene practices like mask wearing indoors, sanitising, social distancing and logging in to premises to enable contact tracing to be carried out. Our people should be doing this too. We need to do all we can to keep ourselves safe.
And keeping safe is what I want you all to practise over the upcoming festive season. You have spent all year keeping others safe, now it's time to focus on you.
Meitaki maata to you all for the huge effort you have put into your work this year. Your care for our people is beyond reproach, as if your love of country.
I extend my heartfelt gratitude and wish you all a Safe, Happy and Health Festive Season.
Be happy - Be safe
The festive season is one of the busiest times of the year - preparing gifts, family gathering, hosting returning families from overseas and attending church services. With so much to prepare it causes over excitement that may result in stress, over exhaustion or, in worse cases, injury. Here are some things you can do to prepare for a happy and safe Christmas and New Year break.
To begin, what is the Emergency department? The emergency department, or ED for short, is a department in the hospital responsible for the care and management of unstable and critical patients. Staff are trained to handle any emergency situations and are capable of giving immediate medical services. The ED is located in the Rarotonga Hospital at Nikao, open 24/7 to emergency patients.
As the festive season is the busiest time of the year, this causes the workload for the ED to increase. As activities, gatherings and parties increase, the risk of injury increases both at home, in public and on the roads. To prepare, the ED allocates extra manpower to meet the high workload demands. However due to border closure, the population of the Cook Islands remains low. Thus making the population at risk of injury low, making the workload a little lighter for the ED. Effective communication to the public on safety is always top priority during this time of year. A reminder to everyone to always be safe, wherever and whenever so that they can avoid the Emergency Department this festive season.
The most common emergencies that the ED encounters during the festive season is; trauma (head injuries, lacerations...), respiratory events (bronchial asthma attacks), alcohol intoxication, food poisoning, and wound infections. To avoid injury, the ED will provide some tips on staying safe this Christmas and New Years.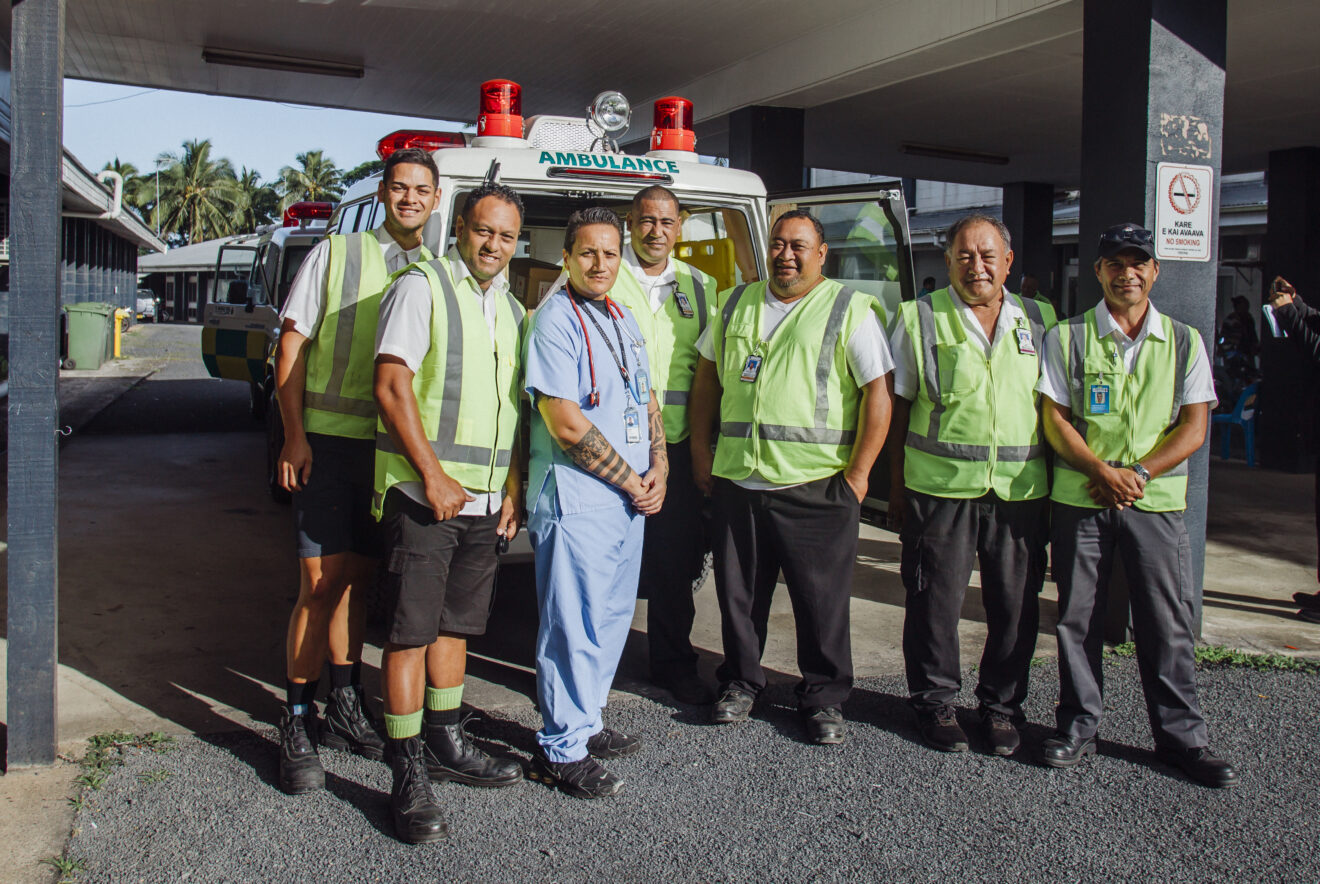 Te Marae Ora hospital staff.
With the compulsory use of helmets, the ED has seen a decrease in severe traumatic head injuries caused by motor vehicle accidents, an improvement from past years. However, this does not excuse reckless driving on the roads. Please always:
Wear a helmet when driving a motorbike

Drive to the speed limit

Watch out for oncoming traffic, pedestrians and animals

DO NOT DRIVE UNDER THE INFLUENCE OF ALCOHOL OR DRUGS

Obey police authorities and road rules.
For head injuries caused by falls, please:
Be mindful and careful when walking down stairs and other dangerous areas (i.e. balcony)

Be aware of your surroundings

Make safe choices

If someone is harassing you, contact the authorities.
There is a lot of excitement, stress and anxiety when it comes to Christmas and New Year's which may trigger asthma attacks. Those with asthma must be mindful of any triggers this year so that they won't suffer any attacks. To prevent asthma attacks, please remember to:
Always keep your asthma pump near and always carry an extra

Recognize and avoid your asthma triggers (i.e. fragrances, exercise)

Avoid smoke of any kind

Prevent colds

Take your asthma medication if prescribed.
Alcohol consumption is inevitable around this time of year. There are many dangers that follow high alcohol consumption. Careless and reckless actions that result in injuries and motor vehicle accidents. When you are highly intoxicated you put yourself and others in harm's way. Drink safely or don't drink at all. Make the safe decision:
Know your limit

Have a backup plan and sober driver

Eat before drinking alcohol

Don't drink and drive

Be mindful of accepting drinks from strangers

Keep an eye on friends for over drinking to avoid alcohol poisoning.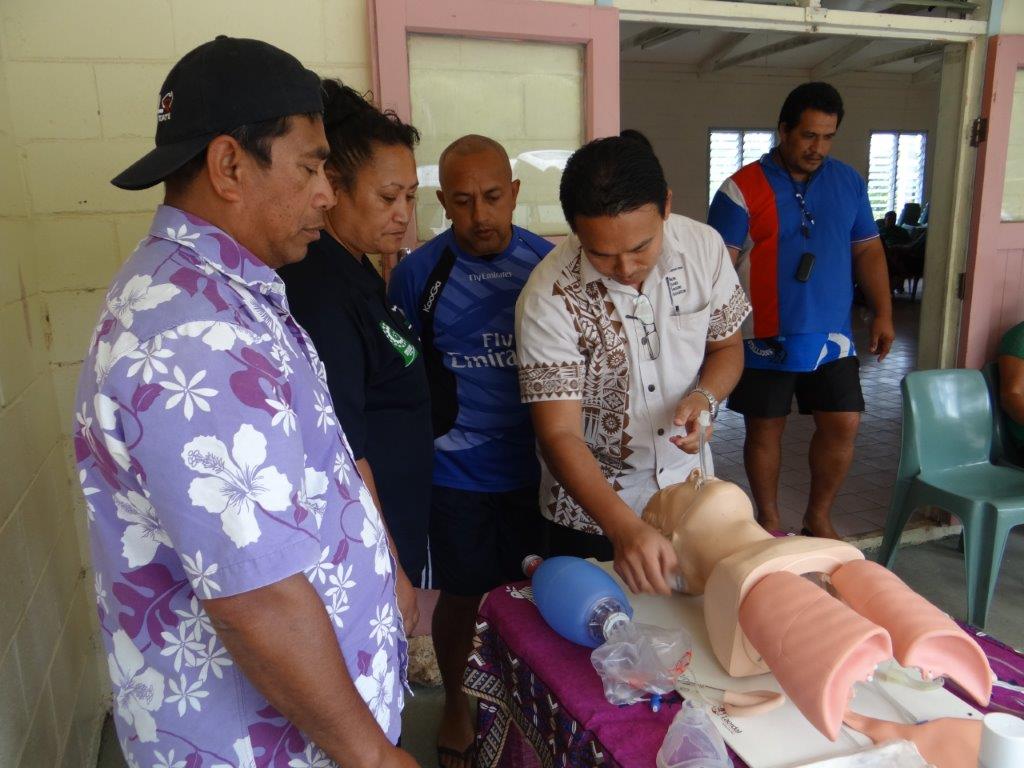 Dr Deacon Teapa instructing at the Trauma exercise workshop in Mangaia.
Food is one of the most enjoyable things that people expect during holidays. They do say that the way to people's hearts is through their stomachs. Food preparation is top priority for this season, however it can go wrong. Food poisoning could happen if we are careless in the kitchen. Let's avoid bad food and only consume safe and healthy meals this festive season:
Always wash hands, surfaces and cooking equipment

Keep kitchen clean and hygienic

Defrost food safely in fridge

Cook at safe temperatures

Separate raw produce from readymade produce to avoid cross contamination

Refrigerate at 40°F or below

Refrigerate food within TWO (2) hours of cooking

Do not eat food off the floor. The 5 second rule does not apply to your health.
It is very easy to get injured but more challenging to take care of the injury. Taking care of wounds is most important to prevent infections and further damage. Those taking care of someone's wounds or have been injured, please remember to:
Keep hands clean and wear gloves before touching wound

Stop the bleeding

Clean the wound with water to remove any dirt in the wound

Apply antibiotics

Cover the wound with bandage

Change dressing regularly (once a day)

Please call a doctor if you are showing signs of infection.
There are many patients that come in injured due to domestic violence and physical violence. Be aware of others and dangers. Do not hesitate to call for help if you feel threatened or are in danger. If you witness someone going through such hardships, offer a helping hand and call the authorities. The ED not only cares about your physical health but your mental health as well. Be safe, and if you see others in need of help, offer them help.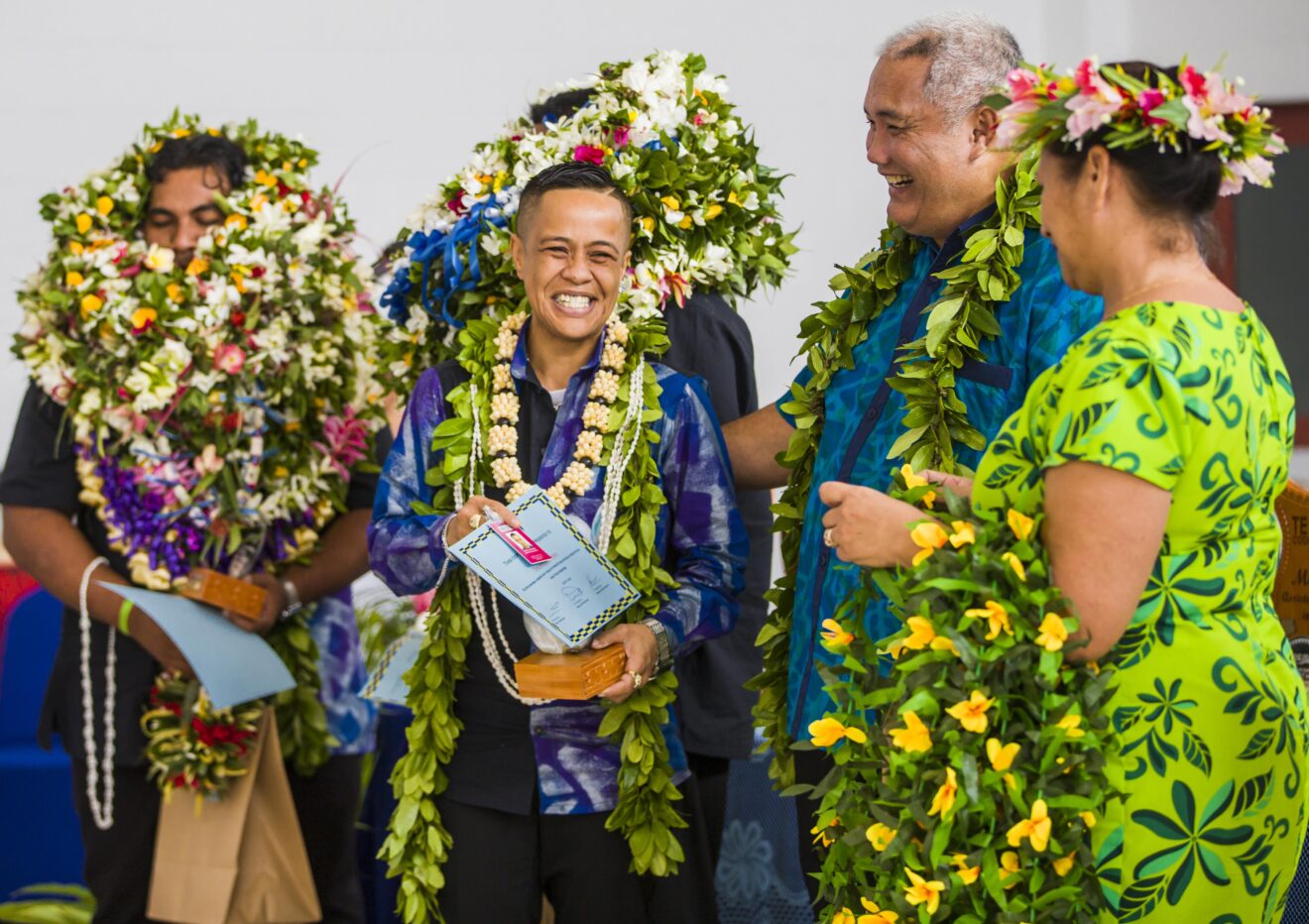 Public Health graduation ceremony.
Now for more current safety tips. Everyone must practise and keep the COVID-19 public health safety measures, in preparation for the border opening on the 13 January 2022. We urge the public to get into the habit of practising these safety measures. The more you practise now, the better prepared you are when the border opens.
Avoid large crowds

Keep a safe distance

Wash your hands

Wear mask on public transport and enclosed spaces

If you are showing flu like symptoms contact your doctor

Tag in and record where you go in public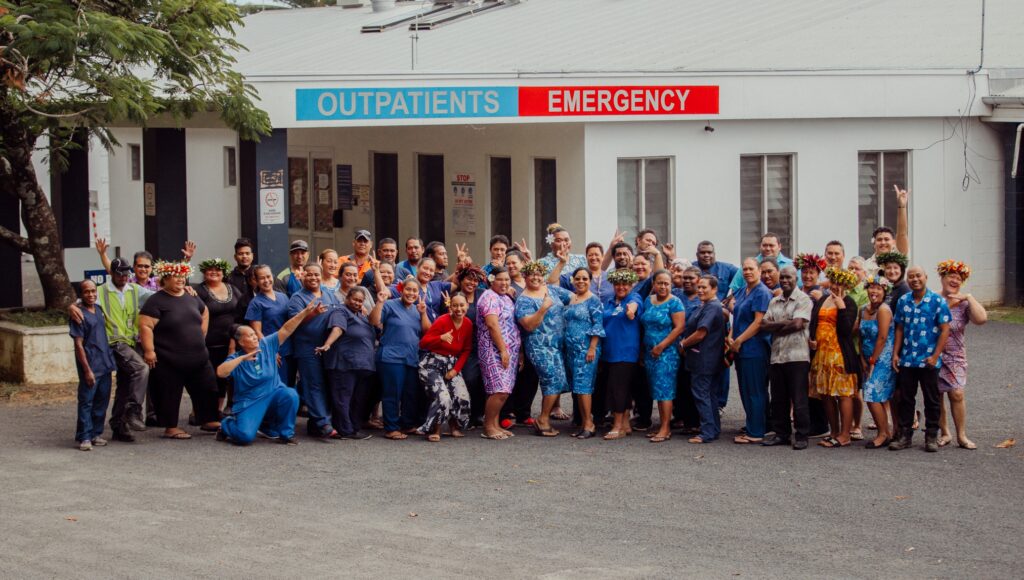 Te Marae Ora Hospital staff outside the now Emergency department.
The safety tips above are highly recommended that you follow. Te Marae Ora's Emergency Department sincerely wishes everyone a safe and fun holiday. We hope to not see you at the ED this festive season. Keep our public safety measures and stay safe. Be Safe, be aware, be kind. Don't drink and drive. Eat and drink in moderation. Stay safe!
Theresa
Tatuava
Section Head Immunohaematology and Laboratory Quality Coordinator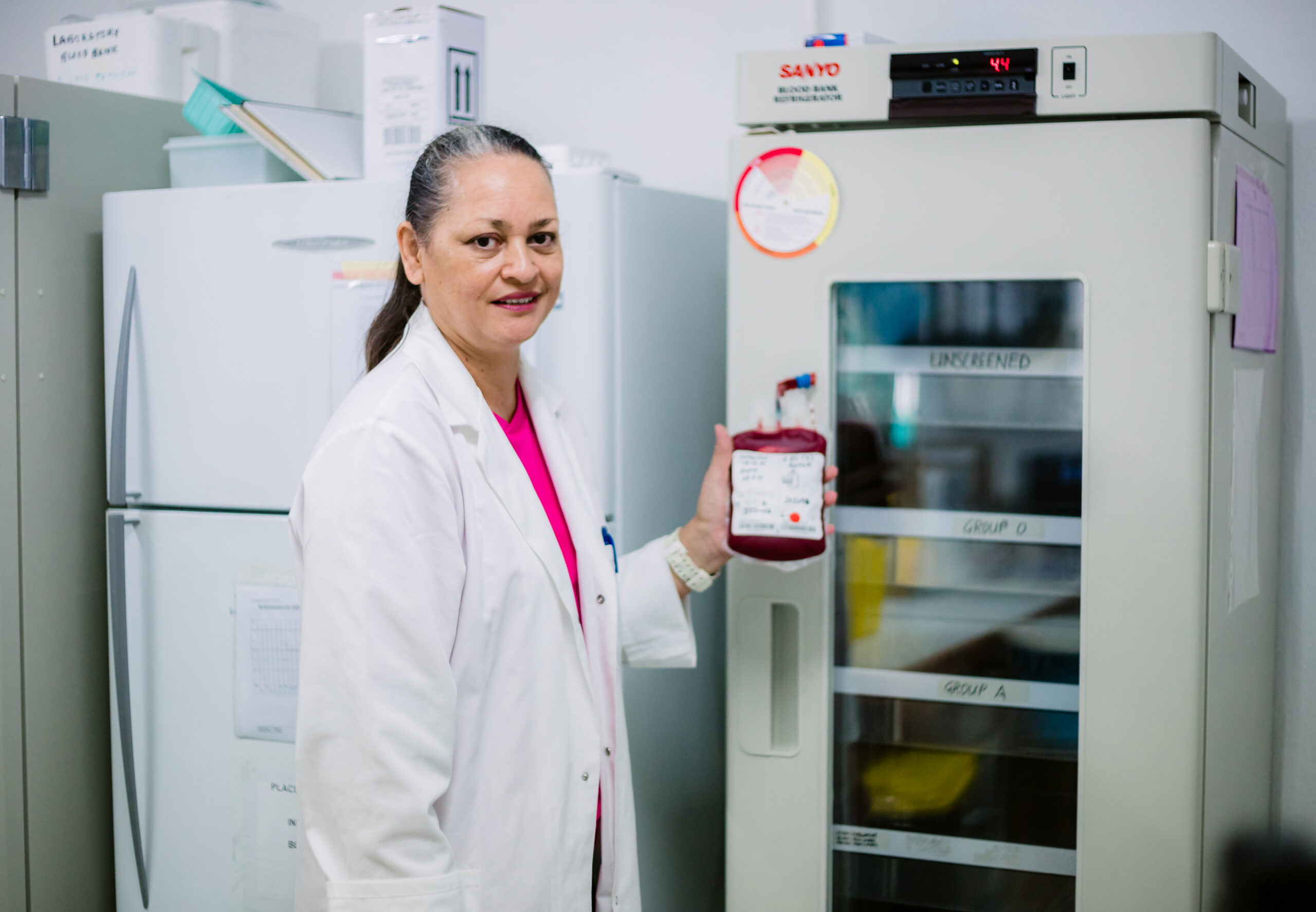 Introducing Theresa Tatuava of Titikaveka who is currently working at the Rarotonga Hospital Laboratory.
Theresa started working at the Laboratory in 1992 as a Medical Laboratory Trainee for three years. Later she progressed as a Medical Laboratory Technician and worked in this role for the next 10 years. She went on to obtain a specialised qualification as a Medical Laboratory Scientist and Laboratory Quality Coordinator.
Theresa normally starts work at 7.00am checking tests performed during the night, check ing Laboratory Outpatient Specimen Collection area is well stocked with supplies, and also sterilize area. She also works with Cook Islands Red Cross organising blood donor drives to replenish blood stock supply for URGENT blood transfusion of rare blood types. Theresa gets to interact with people a lot and likes building trusting relationship with blood donors.
Away from work Theresa likes to spend quality time with her family and her garden. She also loves to create DIY projects for use and gifts.
Akaoro Meitaki
Mona Ioane, Barrister, former Police Officer and former Cabinet Minister, lives in Tupapa with his family shares his story with readers of the tragic death and trauma of losing his son almost two years ago.
My wife and I have three adult children and our youngest is seven years old. On that fateful night of the 26 January 2020, our 14 year old son, Mona Ioane Jr together with another motorist tragically died in a head on collision on the main road in Pue. They were both intoxicated and not wearing a helmet. This is the reality and nightmare that parents go through and words cannot explain the trauma and pain our family went through that night at the hospital to identify his body and the days that followed up to his burial. Losing your child that you raised from birth to die severely on the road because of the exposure and availability of alcohol and drugs to minors is still very raw and painful even after many months or years.
I believe that my son was a victim and like many other youth been exposed to alcohol and drugs. There is no way these minors are able to purchase these from the shops because of the stringent laws and strict regulating by the Police. These are purchased by bad role models in our society imbedding bad influences of "generation after generation of drinking culture" to minors and exposing them to alcohol and drugs without the knowledge of parents. If you are one of these people supplying alcohol and drugs to minors illegally, you should STOP NOW.
What happened to my son changed our lives forever and I believe the same for many other families who tragically lost their child, partner or family member on the road because of being under the influence of alcohol and over the drinking limit. Our communities will continue to suffer the consequences of this alcohol culture which include alcoholism, domestic violence, sexual assault, broken families, financial debt, and road accidents.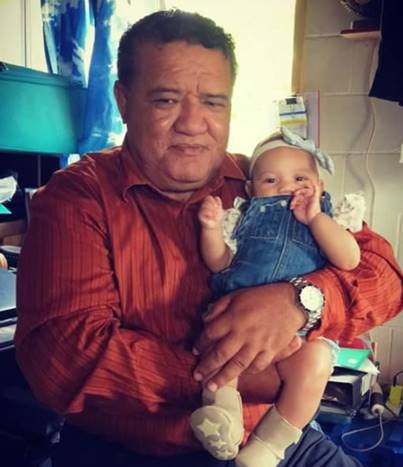 I think of my son every waking moment since that fateful day and often shed many tears just thinking about him. He was an aspiring scholar athlete with much potential to do well academically as well as in sports. He was much loved by everyone at school, at church, at sports and in the community. So unbelievable that he is no longer here. This is something I wouldn't want to happen to another family. This "maki" must STOP NOW and we can only achieve small progress step by step through community efforts. We must protect our young population now, they are our future leaders and we must nurture them accordingly to what is right and beneficial for their future instead of falling victims to alcohol and drugs abuse and death.
In the last five years, pre 2020 for example, I believe that 63% of fatal accidents in the Cook Islands have been alcohol related. With many a youth never reaching their full potential and young lives gone too soon, we as a country almost seem to refuse to acknowledge the problem because of the fear of financial loss. However, with the wearing of helmet made compulsory to drive a motorcycle has minimized road fatalities and heart aches.
I laid my son down to rest in front of our home in Tupapa where I can see his eternal resting place every day. Our families missed him all the time and every second. As a parent, I had many unanswered questions to myself but I never pointed fingers at anyone but myself. I have so many silent answers for my son even to tell him how much I missed and loved him. This is something that I have to live with for the rest of my life coping with my son's tragic death every single day and his grave is a constant reminder of the pain he suffered that took his young life away and the family he left behind that loves him endlessly and still grieving over him.
I am reminded of the Word in Ecclesiastes 3 To everything there is a season, a time for every purpose under heaven: A time to be born and a time to die, a time to plant and a time to pluck what is planted; a time to kill and a time to heal; a time to break down and a time to build up; a time to weep and a time to laugh; a time to mourn and a time to dance… Yes time is a healing factor and in time we will cope and share a smile.
The birth of our first grandchild, Manongi in September 2019 is a great distraction from our grief and suffering. She was only four months old when her uncle passed away. Today, she keeps our household alive and on our toes with her swiftly tiny legs and the mind of grown children. She's such a blessing in our life and a true blessing indeed to keep our mind from grieving.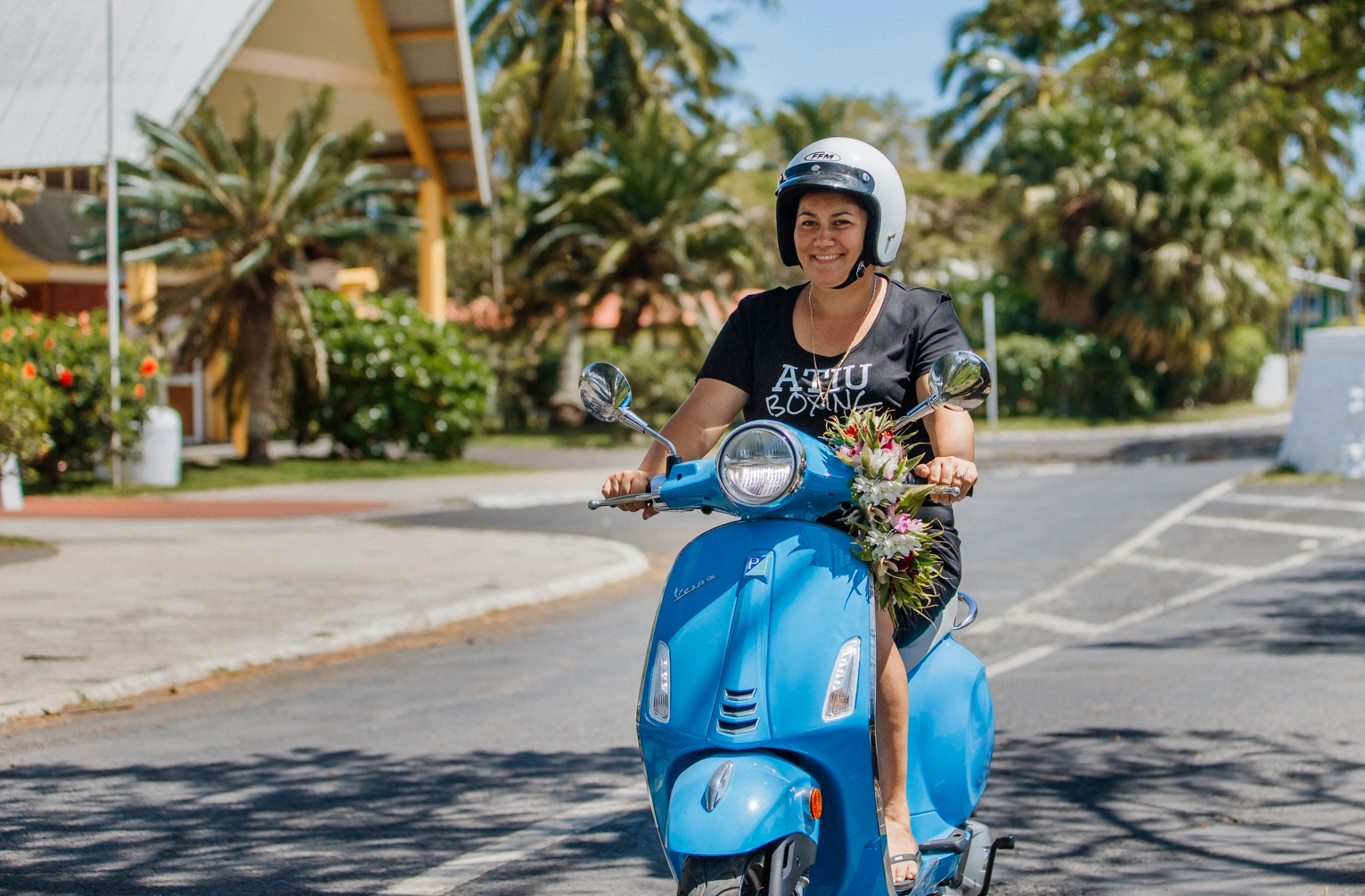 Minister of Health, Honorable Vainetutai Rose
Toki Brown.
This month December is the Festive Season, a time to spend memorable and quality time with your love ones to enjoy relaxing while celebrating the birth of our Saviour Jesus Christ. So we should be celebrating Christ's birth and not burying a love one because of road fatality. My Plea to our 'Youth' out there is to look after yourselves. Be responsible adults both at home, at work and on the road. Don't Drink and Drive. Think Road Safety – Road Safety is everyone's business. Take road safety seriously. Be safe and be wise. Let 2021 and 2022 onwards be road free fatality.
Stop the heartache and celebrate Christmas and the new years with much happiness and love.
Preparing for the festive season
November through to March is considered low season for the Cook Islands, primarily due to the hurricane and wet season during these months. Cook Islanders at this time prepare themselves for the coming season by making sure that the houses are tied down and that all essential products are readily available for the disaster month.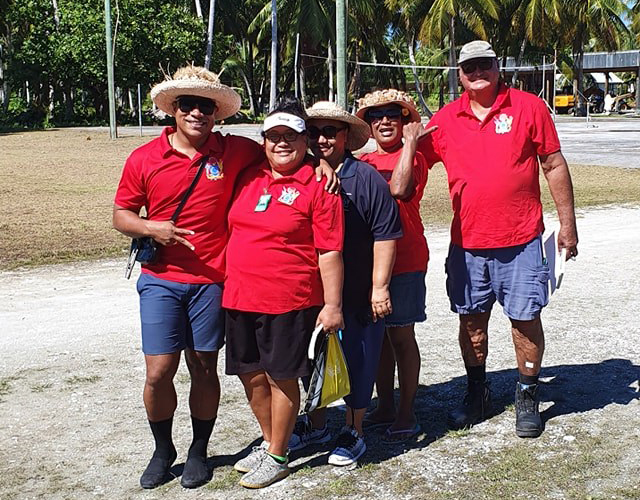 Te Marae ora staff in Manihiki.
In 1997 a severe Tropical Cyclone 'Martin' hit Manihiki Island which claimed lives of a few people. This was the deadliest tropical cyclone of the 1997–98 South Pacific cyclone season and the worst considered for the Cook Islands. On that note we had the opportunity to interview Etaia Jeanmarie Williams from the village of Tauhunu in Manihiki who shared his experiences on when preparing his household for the disaster season and recalling past knowledge of disaster preparedness.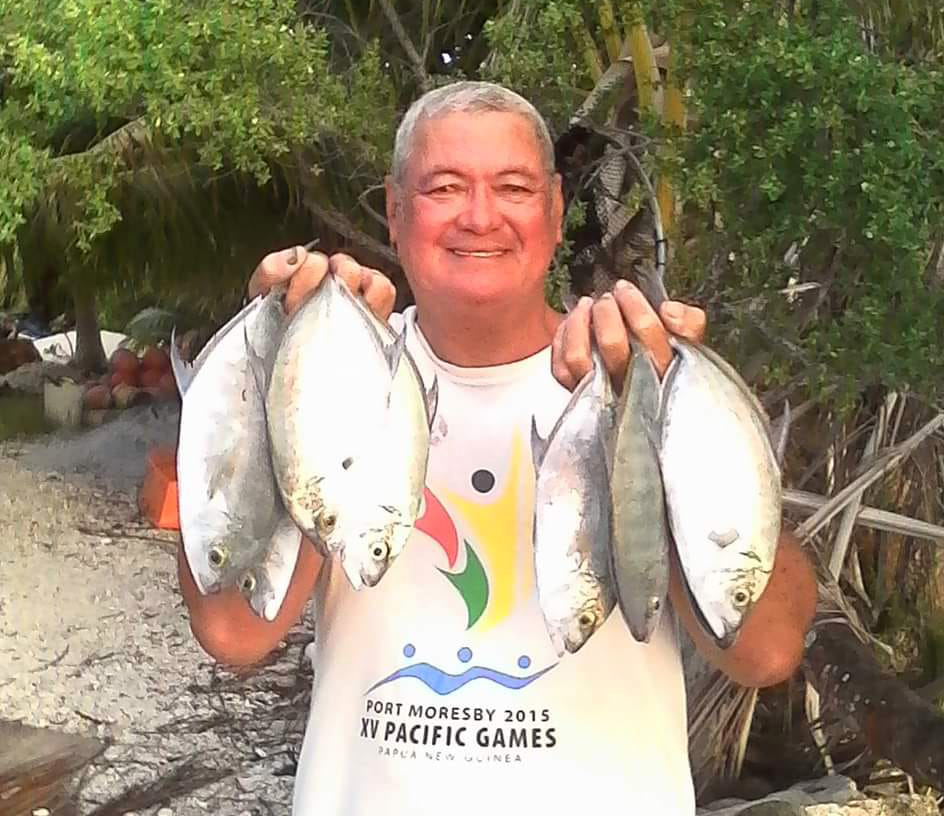 Jean Marie showing his catch from the sea.
Etaia Williams also known by many as JeanMarie who was born 1958 on the island of Manihiki. He is an experienced diver and fisherman since his childhood days. He did most of his education on Rarotonga at Saint Joseph's primary school and Tereora College and later on went overseas to train at the New Zealand Underwater Association as a diver and with this knowledge gained he returned and joined the family fishing business on Rarotonga where they would travel the islands to catch and harvest the fishes for commercial use.
JeanMaries family also farms pearls on the island of Manihiki and his father was a well-known pioneer in pearl farming and deep sea freediving in the Cook Islands.
Jean Marie also worked at Red Cross as the Regional Instructor after graduating from Fiji for some time and later on was employed by Te Marae Ora, did his training and transferred back to Manihiki as a Health Protection Officer.
Questions: How does the Pa Enua prepare for the cyclone season?
Currently on Manihiki the Cyclone Management Centre is activated during cyclone season commencing 25th October and this is when everyone will prepare or check to make sure they are ready for the disaster season. When there's a weather disturbances I will alert everyone by way of public announcements through meetings, radio, phone and word by mouth.
When a cyclone is given a number, it is my work to monitor its movement 24/7 until it is given a name. Then tracking this cyclone is monitored and if it's a threat to the island, the Local island government is advised and they make the decision to either move to CMC.
By then our Disaster management team is also activated and everyone is on put on standby till April. As for TMO Manihiki we are always on standby.
Questions: How do you know that there is a cyclone in your area?
The current practice I do at the moment is to tune in and listen to the Hawaii weather station WWV every hour when there is a cyclone bulletin. We also tune in to radio Cook Islands for regular announcements during the cyclone.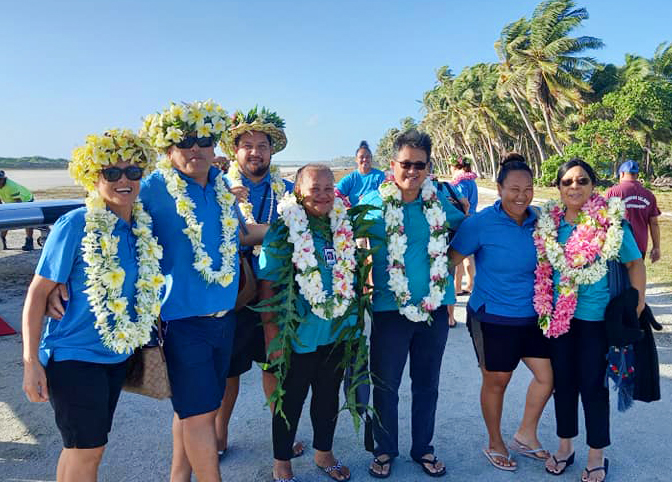 Te Marae Ora Rarotonga staff in Manihiki.
Questions: In the old days, what does the people do if there is cyclone or tsunami warning?
During the old days our people would go into their boats and anchor in the lagoon. This is in times of high seas, tsunami and cyclone where the land will be over powered by water. Essential produces for emergencies which includes medications, food products, dry goods and clothing are prepared and stored in plastic barrels as storage for necessary evacuation which stays dry in the rain and will afloat if fell overboard in the water.
Questions: Any natural warning signs you know of before the storm happens?
Some natural warning signs we were taught from childhood and is still observed today are that:
Coconut crabs will block off or seal the access to their shelter holes

The Hermit crabs will climb up trees and take shelter there

Fish will run abundantly like crazy before a cyclone like panic mode

The wind direction will blow from the west which is a sign of a cyclone
Questions: Any bad experience during or memorable moments of a cyclone?
The only cyclone that differ from the rest was cyclone Martin who sneaked in the night and caught everyone by surprise and claimed some lives. I also went through Cyclone Sally, Cyclone Agatha but Martin was the worst one
Questions: Any advice in times of disaster preparedness?
I would suggest to everyone to stay prepared for these sort of situation because we will never know when it will come because it will sneak in at the times you least expect it. For my family and the families of the Northern Cook Islands, during October we prepare a bin with dry food and water, matches or lighters, some first aid kits but I also rely on the traditional methods gained. We also store fuel for our boats and fishing gears. So these are the essentials ready in time when disaster strikes.
Cook Islands border opening 13 January 2022

Ages 12+ Pfizer COVID-19 Vaccination near completion

Te Marae Ora is also proud to sponsor the Secondary colleges awards ie: Nukutere, Tereora and Titikaveka Colleges. The awards are Excellence in Health Science, Excellence in Sports and Science

The Health Protection Sewage Sanitation unit would like to remind the Public to report any foul Odor or Overflow septic tanks to Public Health on phone 29110.

The Sewage Sanitation unit would also like to remind the Public that if you are planning to build a new home, you have to apply for a permit first at National Environment Services (NES), Public Health and ICI

The Food safety unit at Public Health would like to remind the people selling raw and cooked food products that you must have a food licenses to sell these produces. If you don't have a licence please contact Public Health on 29110 to go through the food license process to acquire a license

Tupapa Primary Health Care changes to opening hours - 25 December: Monday to Friday 8am to 4pm. For after-hours services and Saturday and Sunday the community will need to refer to Rarotonga Hospital

For Dental Services Ring 29312 for appointments, for emergencies please ring Dr Danny Areai on mobile 54312.