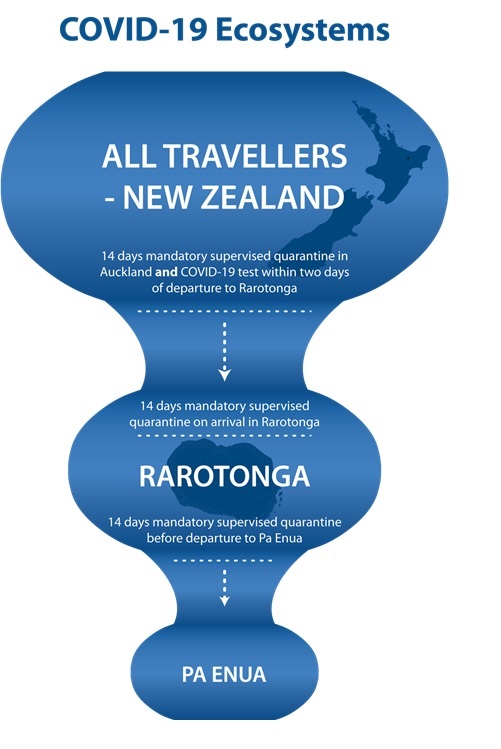 Stringent border measures are in place to protect the people of the Cook Islands from Coronavirus Disease 2019 (COVID-19). The controls in place create three "ecosystems": Rarotonga and New Zealand, the Pa Enua, and the rest of the world.
Cook Islands residents are free to travel between Rarotonga and New Zealand without a requirement for self-quarantine, provided they have not visited other countries while overseas.
New Zealanders and other foreign nationals are also permitted to travel freely to Rarotonga, provided they have spent at least 14 days in New Zealand before their scheduled departure to Rarotonga.
People intending to travel to Rarotonga from the rest of world, must self-quarantine in New Zealand for 14 days before they can continue on to Rarotonga.
For those wishing to travel to the Pa Enua (Outer Islands), they will have to undertake a mandatory 14-day quarantine supervised by Te Marae Ora Cook Islands Ministry of Health.
People choosing to travel can move freely with little restriction within each ecosystem, however those who require to move from one to the other should expect to undertake a specified period of self-quarantine before moving onward.
"As the Pacific region has taken decisive border control measures, along with other nations elsewhere, a system has taken shape that provides clarity for those who need to travel" says Secretary of Health Dr Josephine Aumea Herman.
---
For further enquiries call or email Jaewynn McKay; +682 55486: jaewynn@wovenpacific.com